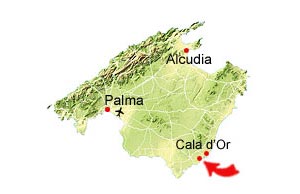 S'Amarador is one of two beautiful beaches in the Cala Mondrago nature reserve on the south eastern coast of Mallorca.
The beach in general
Aside from its small beach bar, this gem of a beach is still in its natural state. The beach is surrounded by tall pine trees and the view is stunning.
S'Amarador is 145 metres long and 50 metres wide with fine, white sand and clear, shallow water. Should you wish to visit the equally beautiful neighbouring beach of Cala Mondrago, you can follow the 300-400-metre-long mountain path that connects the two. In spite of being smaller than S'Amarador, Cala Mondrago is significantly busier.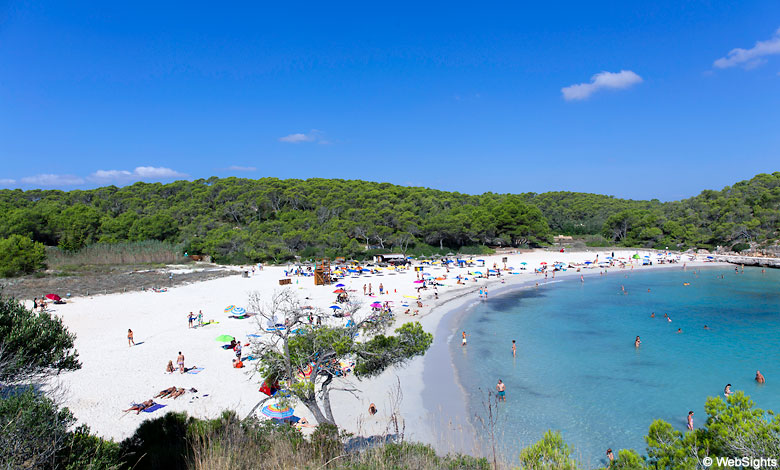 In 2008, S'Amarador was crowned the Best Beach in Europe by onbeach.com. The beach was up against no less than 3,000 other European beaches!
It is possible to rent sun loungers and parasols at S'Amarador and if you find yourself needing a break from tanning, you can head to the beach bar. In the high season, there is even a lifeguard on duty. You can park your car in the large parking lot situated five minutes from the beach. Although designed like a paid parking lot, it appears to be free.
Child-friendliness
The beach is shallow and waves are few and far between. On top of that, there is plenty of space to play, making the beach perfect for children!
Water sports
The beach is free from the noise pollution of various water sports, but visitors will usually have a good view of the beautiful boats that drop anchor in the bay.
Beachside restaurants
There is a small beach bar where visitors can purchase refreshments to get through a tough day at the beach. The neighbouring beach of Cala Mondrago is home to 2-3 restaurants and the walk that connects the two beaches is a wonderful experience in and of itself.
Holiday towns in the vicinity
The closest holiday town is Cala Mondrago: a small and fairly isolated town. There are a few hotels and restaurants in town, but the quality of the beaches in the area means that it is always busy. If you want to stay in the area, have a look at Hotel Playa Mondrago, which is situated in close proximity to the beach.
The nearest bigger holiday town is Cala d'Or, which is located 8 kilometres north east of S'Amarador. The selection of hotels, restaurants, and shops is far bigger there.
---
Watch our video from s'Amarador, Cala Mondrago and Calo des Burgit
---
S'Amarador map
The map shows S'Amarador in the bottom left corner and Cala Mondrago in the middle, while Calo des Burgit can be found in the top right corner. The area offers innumerable walking paths that make it easy to get the most out of the beautiful surroundings.