The secluded resort of Cala Mondrago is situated approximately 8 kilometres south of Cala d'Or on the south eastern coast of Majorca.
The beach in general
The beach in Cala Mondrago is officially known as Caló de n'Alis but usually referred to as Cala Mondrago.
Cala Mondrago is a lovely sandy beach, which is flanked by two rocky headlands. The seawater has a beautiful shade of light blue and is crystal clear.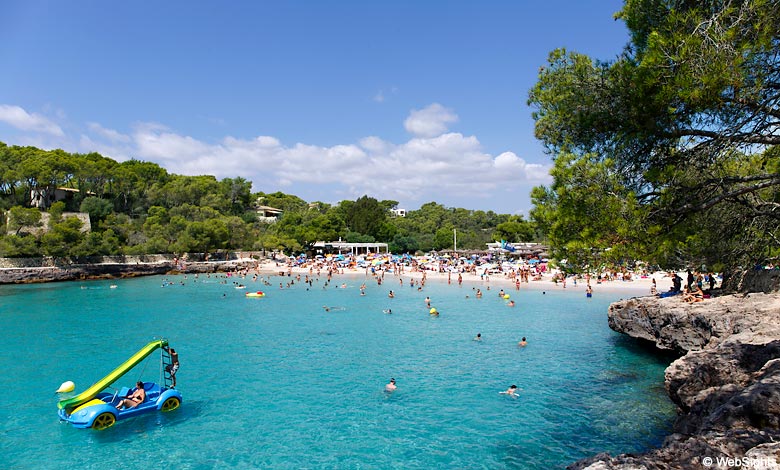 Despite the isolation of the resort, the beach can still become quite busy during summer weekends. If too busy, you can head for the neighbouring beach of s'Amarador, only a 400 metres walk along the beautiful coastline.
You can leave your car for free on a parking area close to the beach.
Child friendliness
This beach is good for families with children. Fine white sand and shallow water. If more space for playing is required, then try close by s'Amarador.
Water sports
Only pedal boats, but the sea is perfect for snorkelling.
Beach restaurants
There are two restaurants and two beach bars on the beach.
Cala Mondrago holiday resort
Cala Mondrago is a secluded and small resort with only a few hotels and it is highly unlikely that Cala Mondrago will ever grow larger. The most popular hotel is Hotel Playa Mondrago (see photo above), located a few meters from the beach.
In 1992 much of the area around Cala Mondrago was declared a Natural Park, thus affording it special protection from future commercial development.
---
Watch our video from Cala Mondrago
---
Cala Mondrago map
The satellite photo shows two white beaches and the beautiful turquoise sea. It is s'Amarador to the left and Cala Mondrago in the middle. To the right it's the tiny Calo des Burgit.