The natural beach Cala sa font Celada is located in the north-eastern part of Mallorca, approx. 5 km west of the holiday resort Cala Mesquida.
The beach in general
Cala sa font Celada is a very nice beach in beautiful, natural settings. With its remote location, it is close to being a secret beach tip in Mallorca.
There is quite a walk to the beach. You can park your car by the small beach Cala Estreta, and from here, there is an hour's walk along the coast. A very nice walk in a somewhat impassable terrain.
However, this long walk is indeed very rewarding. The relatively large beach is covered with bright, fine-grained sand and the water is crystal clear. If the wind comes from the north, there are often waves.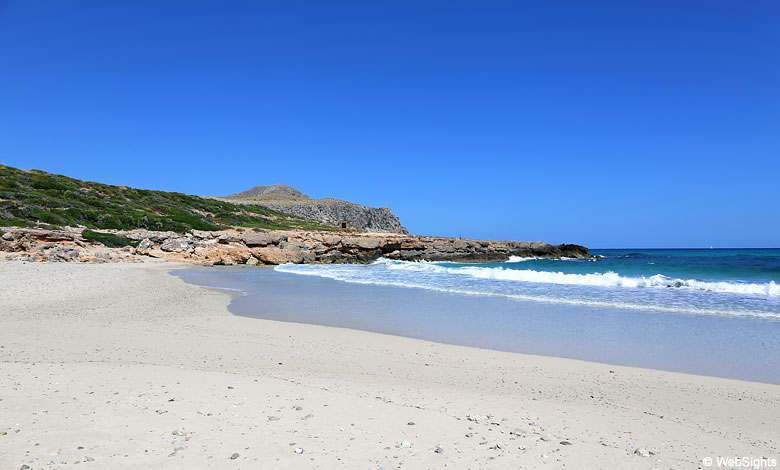 There are no facilities at the beach and the nearest beach bar and toilet are several kilometres away. This is, however, also one of the reasons why you may sometimes have the beach all to yourself.
Child-friendliness
On days without waves, the beach is very child-friendly and is therefore awarded four stars. However, the long walk to the beach is not recommended, if you have small children.
Water sports activities
There are no water sports activities.
Beach restaurants
There are no restaurants or beach bars within a radius of several kilometres. So remember to bring food and water for a day in the great outdoors.
Nearby holiday resorts
Cala sa font Celada has a lovely remote location and the nearest holiday resort is far away. Cala Mesquida is the closest town and is a smaller resort targeted at families with children.
It is actually possible to walk all the way from Cala Mesquida to Cala sa font Celada, but the walk there and back takes 3-4 hours in total. It is possible to buy refreshments at Cala Torta, which you will pass on the way.
---
Cala sa font Celada map
To the right Cala sa font Celada and to the left another natural beach, Playa de S'Arenalet. Both are very beautiful beaches.