Are you planning your holiday in Mallorca? Or maybe already landed and ready to explore this lovely holiday island? In both cases, a map is helpful. Here on the website, we have two maps. An ordinary map with all the major cities and roads, and a map with the 100 best beaches.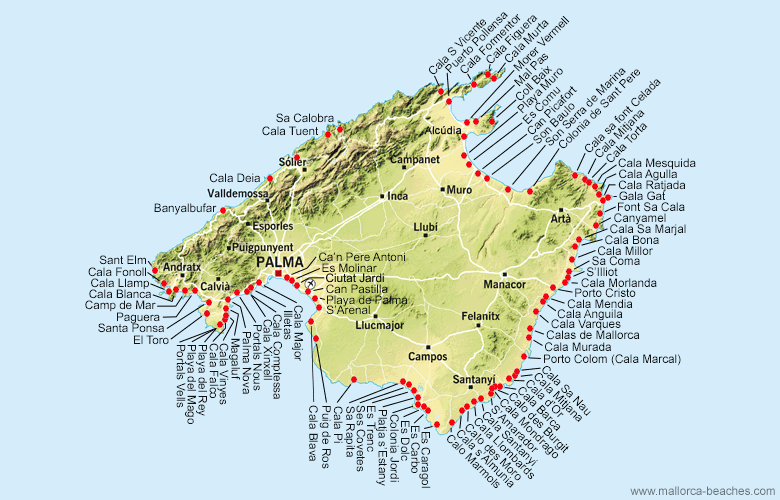 The beach map features popular beaches, small hidden gems and remote natural beaches. Click on the name of the beach for a detailed description and pictures.
Mallorca is located in the western part of the Mediterranean, about 170 km from Barcelona on the Spanish mainland. With an area of 3,604 km² and a coastline of more than 550 km, Mallorca is by far the largest of the Balearic Islands.
The map clearly shows that the northwestern part of the island is the most mountainous part. The mountains are part of the mountain range Serra de Tramuntana, which starts in the southwest at the island Sa Dragonera and ends at Cap Formentor in the north. The highest point of the mountain range is Puig Major at 1,445 meters above sea level. There are a total of 11 peaks over 1,000 meters high.
The mountains protect the relatively flat area in the middle of the map, Es Plà. This is where most of the agricultural products are grown, including grapes for the famous local wine production. Mallorca even has its own grape variety, Manto Negro.
On the map with the beaches, you can sense how close the beaches are to the east coast. They typically lie in beautiful rocky coves, which are called cala in Catalan. It is different west of Mallorca's southern tip, where the beaches are typically long sandy beaches. The most famous of them is the dream beach Es Trenc.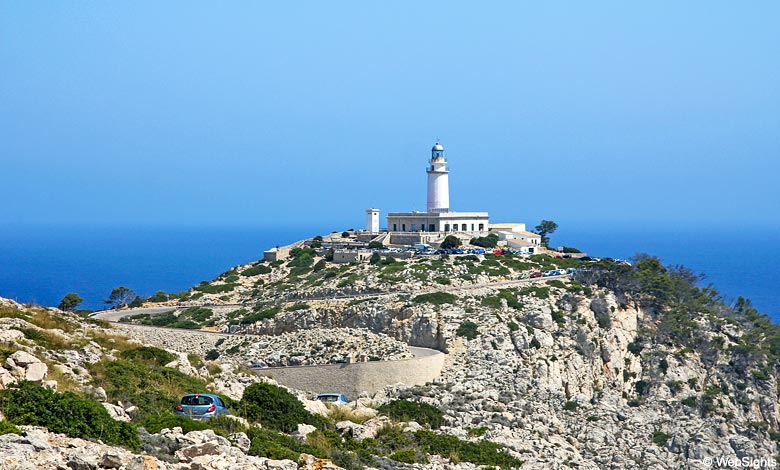 In the upper part of the map, two scenic peninsulas can be seen. The largest is the Alcudia peninsula, while the most popular for an excursion is the Formentor peninsula. At the end of the 11 km long (and very narrow) peninsula you will find the viewpoint Cap de Formentor with its iconic white lighthouse.