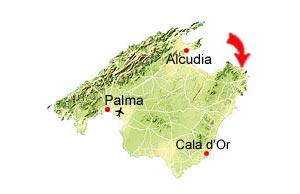 Cala Gat is a small beach in the outskirts of Cala Ratjada, but within walking distance from the beautiful harbour in Cala Ratjada.
The beach in general
Gala Gat is a lovely small beach in beautiful surroundings with cliffs and trees at both sides of the beach.
The water is crystal clear with beautiful blue and turquoise colours. The sand is fine and golden.
The beach is only 40 metres long and 20 metres wide. Nevertheless, the beach is very popular and it is recommended to get there early, in particular if you want to rent one of the limited number of loungers.
Free parking is possible close to the beach.
Child-friendliness
The sand is fine, but the space for playing is often limited. The water depth is about average.
Water sports
None, but snorkelers can watch some colourful fish along the cliffs on both sides of the beach.
Beach restaurants
There is a small beach bar with cold drinks, ice etc.
The resort Cala Ratjada
Cala Ratjada was once a quiet little fishing port and is in fact still one of the most important fishing harbours in Mallorca. Today the lovely harbour is full of yachts and sailboats. Also, from the harbour Cape Balear runs a daily fast ferry transportation from Cala Ratjada to Ciutadella in Menorca.
With almost 12.000 hotel beds in about 40 hotels tourism is without doubt the real mean of income in Cala Ratjada. The resort is popular among French tourists but the German tourists are in the majority.
---
Cala Gat map
The map shows Cala Gat in the upper right corner. The harbour of Cala Ratjada is down to the left. When moving the map further to the south-west the larger beach Son-Moll appears.