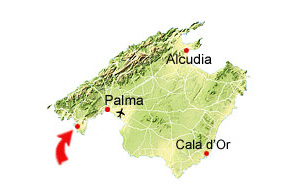 Santa Ponsa is located 20 km south-west of the capital Palma de Mallorca, close to the two other popular holiday resorts Magaluf and Palma Nova.
The beach in general
Santa Ponsa has a nice and big sand beach in the central part of the town. The wide beach is covered with fine-grained, bright sand. In the back of the beach, there are trees and palm trees offering shade in the noon heat – also for the many beautiful green birds.
The beach is located several hundred metres inside a bay, ensuring that the clear water is usually calm. This makes it perfect for a long swim or a nice ride on a water bike for the entire family.
During the high season, the beach is quite popular, but there is room for everyone. If you come by car, there is a big free parking space and also parking spaces in the streets behind the beach.
Child friendliness
There is plenty of room to play at the beach and the water is shallow and usually calm. Therefore, the beach is very child-friendly and is one of the reasons why Santa Ponsa is popular among families with small children.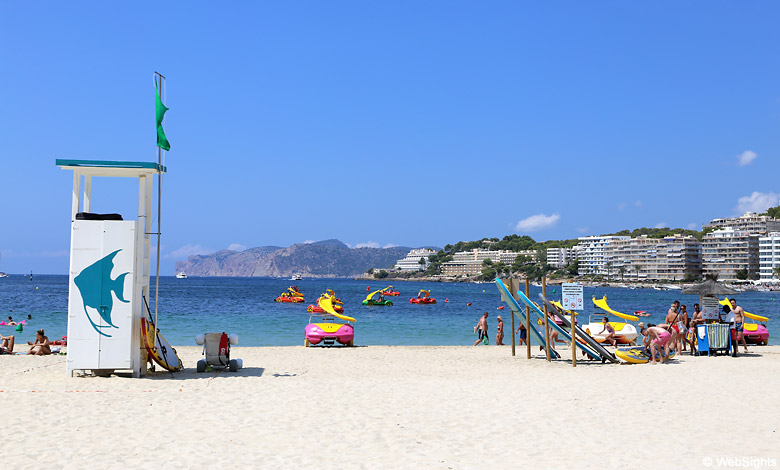 Water sports
The beach in Santa Ponsa offers most types of water sports including jet skis, kayaks and the conventional water bikes.
Beach restaurants
At the beach, there are two-three beach bars, but in the street running parallel to the beach, there are many restaurants, cafés and bars. In the southern end of the beach, there are a few restaurants with a higher location and from here, you can enjoy the great view of the bay.
Santa Ponsa holiday resort
Santa Ponsa is a relatively large holiday resort, but still with a quiet and relaxed atmosphere. The town has many shops and with more than 100 restaurants, everyone is able to enjoy his or her favourite food. The evenings are also quiet, but there is, however, a discotheque for the young audience.
The hotels are scattered all over town. The Spanish hotel chain Globales has several hotels in town, including Globales Playa Santa Ponsa close to the beach.
There are many activities in the area near Santa Ponsa. The most popular attractions are Western Water Park, Marineland with its dolphin shows, and the biggest show in Mallorca, Pirates Adventure, with dancing and acrobatics. In addition, one of Mallorca's biggest sporting events, the ATP 250 Mallorca championships in tennis, takes place in Santa Ponsa every summer.
---
Our video from Santa Ponsa – subscribe to our Youtube channel.
---
Santa Ponsa map
A beautiful satellite photo of Santa Ponsa beach. By moving the map a little to the east the resorts Magaluf and Palma Nova appears.