The beach Calo des Pou is located in the south-western part of the popular holiday resort Cala d'Or.
The hotel closest to the beach is the 4-star Hotel Rocamarina, which has a large swimming pool and a good restaurant.
The beach in general
Calo des Pou is a lovely beach, which is well protected inside a bay. The beach is only 30 m long, but almost 100 m deep.
The bathers can enjoy the fine-grained and bright sand, whereas the water is clear and has beautiful, turquoise shades. In the back of the beach, the palm trees provide a natural shade. This part of the beach is relatively quiet.
Closer to the water, there are two sections with sun lounges and sunshades. Other facilities include showers and toilets. The distance to the nearest supermarket is approx. 300 m. You can park in the small parking space by the beach or in the streets close to the beach.
Child-friendliness
The beach is fairly child-friendly with its relatively shallow and calm water.
Water sports activities
No water sports activities, but the snorkelling conditions in the bay are good.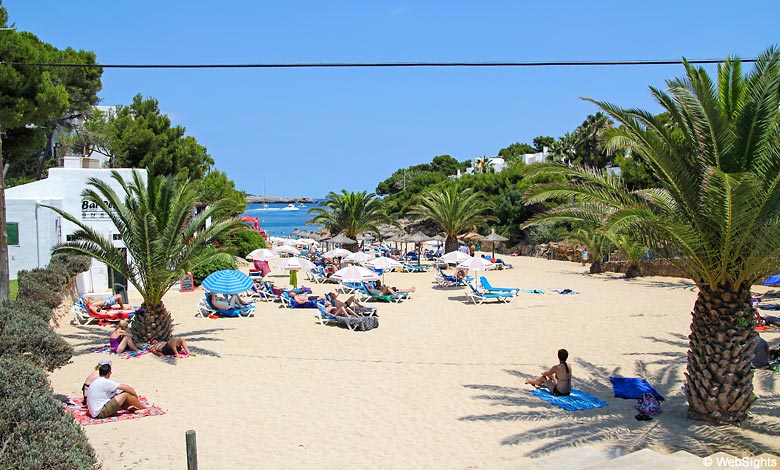 Beach restaurants
There is a nice beach bar by the beach, which serves refreshments and light courses.
Cala d'Or holiday resort
Cala d'Or is a popular holiday resort with an exclusive touch. The charming town centre consists of low, whitewashed houses, inspired by the classic architecture in Ibiza.
Calo des Pou is located in a quiet part of the town, not far from the marina. There are a few hotels, but private holiday homes are predominant in this part of town. In the city center (and close to the beach) is the Sa Marina Center, which offers many restaurants, shopping and a large Eroski supermarket.
---
Calo des Pou map
Situated in the outskirts of Cala d'Or, Calo des Pou is not as frequented as the other beaches in Cala d'Or. In the surrounding area you will find some hotels and restaurants.