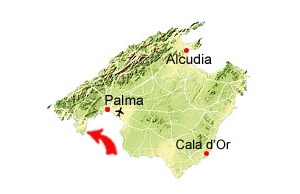 Playa del Mago is located next to the small village Portals Vells in the south-western part of Mallorca. Some 6 kilometres south of Magaluf.
The beach in general
Playa del Mago is a small beach situated in an unspoilt small cove with beautiful surroundings.
It is in fact a small beach. Only some 20 metres long and 5-8 metres wide. But when the beach is full, then there is plenty space on the flat rocks close to the beach. The beach has fine-grained white sand with a gently slope into the crystal clear water.
It is here that the film The Magician was shot in 1967, with film stars such as Anthony Quinn and Michael Caine. Playa del Mago is also known as the first naturist beach in Mallorca and is still very popular among naturists.
The accessibility by car is easy following the signs towards Portals Vells and later towards Playa del Mago. The private car can be left for free in the surroundings.
Child friendliness
Very shallow water makes the beach child friendly, but the space for playing in the sand is very limited.
Water sports
None.
Beach restaurants
The restaurant 'Bar Playa del Mago'.
Resorts close to the beach
Magaluf is situated som 6 kilometres to the north and El Toro about the same distance to the west.
---
Playa del Mago map
Playa del Mago is situated beautiful inside a small cove with low flat cliffs on the left hand side of the beach. The likewise small beach Playa del Rey is situated in the next cove to the north and the larger Portals Vells beach is a 5-10 minutes walk to the south.