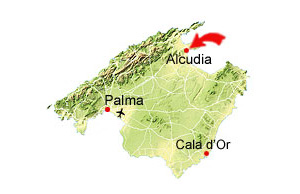 Alcudia's old part of town is Mallorca's historical centrum. Alcudia was founded more than 2,000 years ago and is one of the best-preserved medieval towns in Mallorca. Its ancient name was Pollentia, and it was an important Roman fortress.
The impressive city wall, which surrounds the entire inner city, was built by the order of Kong Jaume II in the 1300s. For several hundred years, the wall slowly eroded but is now getting restored alongside the beautiful city gates, Porta del Moll and Porta de Mallorca. You can also walk on parts of the wall, where you can get a unique view of the town.
Within the city walls, you can find a labyrinth of narrow streets and plazas. Here you will find many beautiful and well-preserved houses, as well as cosy restaurants, cafés and interesting boutiques with local craftsmanship. The historical attractions are centred around the town square of Placa Constitució.
The market is open on Tuesdays and Sundays in the old Alcudia. It is one of Mallorca's most popular markets and attracts tourists from all over the island. If you prefer to have the old city a little more to yourself, you should avoid these two days.
Besides the market days, Alcudia is also well-known for its many events during summer. The highlight is at the end of July, when Alcudia's patron saint, Sant Jaume, is celebrated with concerts, art exhibitions, dance performances, etc. You find several free concerts in late summer, often jazz concerts, near the Can Torró library.
People interested in history can visit the archaeological museum Museu Monografic. The museum is in a building from the 14th century, which was previously used as a hospital. The area of Ruines Romanes de Pollentia, which are the ruins of the original Roman fortress, is also super interesting. After several hundred years, it became the Alcudia we know today.
---
Our video from Alcudia old town – subscribe to our Mallorca Youtube channel.
---
Alcudia old town map
The historical city of Alcudia is only a kilometre north of Mallorca's most popular holiday village, Port d'Alcudia. The best places to park are on the large parking lots south and northeast of the village.