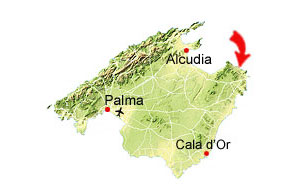 Cala Torta is located in the north-eastern part of Mallorca, north of the historical town of Arta.
The road to Cala Torta is clearly marked, but you should prepare for the last few kilometres on a poor, unpaved road. However, the beach is well worth the trip.
The beach in general
Cala Torta is a magnificent natural beach surrounded by wild nature and hills.
The sand on this fairly large beach is bright and fine-grained. The water has beautiful turquoise shades and is very clear. The snorkelling conditions along the rocks are good, particularly at the left side of the beach.
Apart from a small restaurant/café, there are no facilities at Cala Torta, not even toilets.
Many visitors go for a walk in the beautiful settings. To the north-west, you will find other natural beaches, whereas the holiday resort, Cala Mesquida is located to the east. There are some simple paths leading in both directions.
Child-friendliness
There is plenty of room to play at the beach; however, the water deepens rather abruptly. Beware of waves and undercurrents when the wind blows from the north.
Water sports activities
There are no water sports activities at Cala Torta, but sometimes you can meet a boat with divers going for a dive in the bay.
Beach restaurants
There is café/restaurant at the beach, which has a roof over part of its area. The kitchen is small; however, they are famous for their fish courses. It is also possible to buy sandwiches, ice cream and cold drinks.
Holiday resorts near Cala Torta
Cala Torta is a genuine natural beach with no hotels or buildings nearby. The nearest holiday resort is Cala Mesquida, which is located less than 2 km away along the coast.
The nearest big town is Arta, which is located approx. 13-14 km southwest of Cala Torta. Arta is an old town where it is possible to see some of the authentic features of Mallorca. There is a great market on Tuesdays.
---
Cala Torta map
In the picture, you will see Cala Torta at the bottom to the right, whereas the beach Cala Mitjana is to the left. Cala Mitjana is not of the same high standard as Cala Torta.