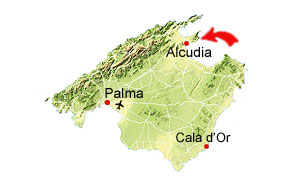 Coll Baix, or Platja del Coll Baix, is located in northern Mallorca about 5 km from the town of Port d'Alcudia. The beach is located on the Peninsula La Victòria, which is also known for the remains of the old watchtower Talaia de la Victòria.
The beach in general
Coll Baix is an incredibly beautiful and remote natural beach, located inside a bay surrounded by high cliffs. The mountainous terrain makes the road to the beach quite challenging, and the last small part of the hike of 30-45 minutes even takes place across cliffs.
However, the reward for the efforts is great. Already heading down towards the beach there are several places with great views of the beach, bay and mountains, so don't forget the camera!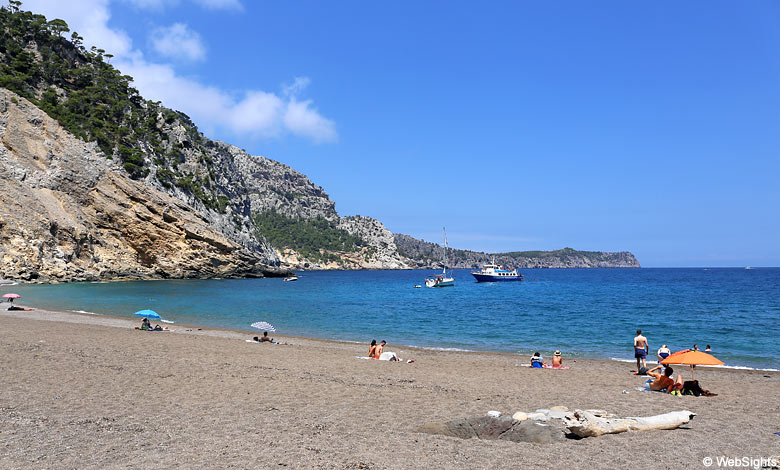 The beach itself is 220 meters long and quite wide, so it is a large beach. It is covered with coarse sand, and the very clear water quickly becomes deep. Outside of high season, you may be lucky enough to have the beach to yourself, but on weekends in July/August, Coll Baix doesn't seem like a secret spot.
There are no facilities, but there is a toilet before the last steep stretch down towards the beach.
It is also possible to reach Coll Baix by boat from Port d'Alcudia. The boat sails for a few hours along the coast, and through the glass bottom of the boat you can see life underwater. The boat stops at Coll Baix, where you can swim from the boat.
Child friendliness
The beach is not very suitable for children. The trip to the beach is difficult and on some parts the water quickly gets deep.
Water sports
No water sports are offered at Coll Baix, which helps to ensure calm surroundings.
Beachfront restaurants
There are no options to buy food and drink by the beach, so be sure to bring food and plenty of drinks from home. The demanding hike requires extra fluids.
Holiday villages nearby
Nearest resorts are Port d'Alcudia and the small cozy resort town of Mal Pas. Some hike all the way from the two cities, but this is only for experienced hikers.
Other sights on the peninsula are the remains of the Talaia de la Victòria watchtower, which was built in 1567 and was in use until 1936. It stands at an altitude of 446 meters and the view from there is quite unique. Among other things, it is possible to look all the way to Cap del Pinar, which forms the tip of the Peninsula La Victòria.
---
Coll Baix map and directions
By car, follow the road Carrer de la Muntaña, which is a dirt road in somewhat rough condition, for the last 3-4 kilometers. From the end of the road there it is a walk of 30-45 minutes depending on the pace. On the map you can see the beach down in the right corner.