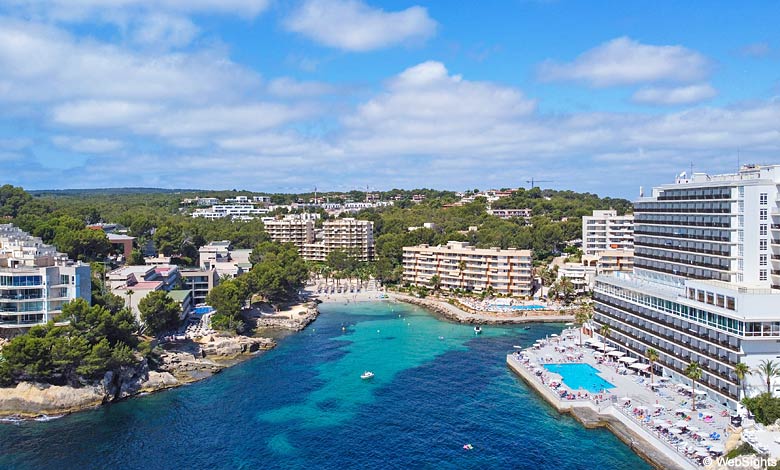 Cala Vinyes is located in south western Mallorca, two kilometres south of the bigger holiday towns of Magaluf and Palma Nova. The beach can be found 31 kilometres from the airport.
If you want to stay in Cala Vinyes, have a look at Hotel Cala Viñas. This 3-star hotel has a beautiful view of the beach and regularly receives excellent reviews from guests.
An overview of the beach
Cala Vinyes is a beautiful sand beach located in a bay. The numerous palm trees create a tropical look while the low cliffs that frame the bay are typical Majorcan.
The beach is only 60 metres long, but it is also 80 metres wide and its clear water offers a wonderful turquoise hue. It is possible to rent sun loungers and parasols on the beach and although Cala Vinyes is lovely, it is rarely full.
There are a few hotels close to the beach, so it is not quite as isolated as Cala Falcó, which is located due south of Cala Vinyes. That said, Cala Vinyes is significantly larger. Free parking is available close to the beach.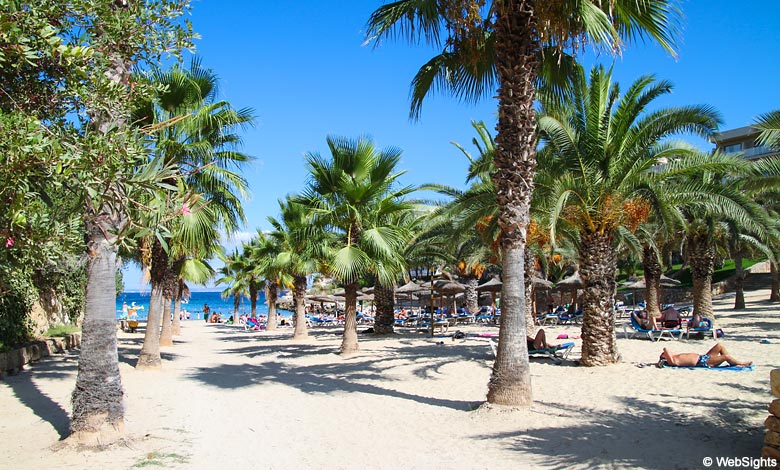 Child-friendliness
The beach is well-suited for children. It is shallow and there is plenty of room for the little ones to play. There is even a playground at the very back.
Water sports
There are no water sports on offer and therefore no noise from jet ski and the likes.
Beachside restaurants
There is a beach bar towards the back and a restaurant right next to beach.
The town of Cala Vinyes
Cala Vinyes is a small holiday town with a few hotels and a large amount of private holiday flats. The atmosphere is very relaxed, but if you want a change of pace, all you have to do is hop in a taxi and head for Palma Nova or Magaluf.
Although there are a few hotels in Cala Vinyes, most people eat at the hotel or head for one of the neighbouring towns. These same neighbouring towns, especially Palma Nova, are also excellent for shopping. You can buy groceries in the local mini-supermarket.
---
Cala Vinyes map
The numerous palm trees on the beach are visible in the satellite photo. Move the map a bit further north to see Magaluf or a bit further south to see the slightly smaller beach of Cala Falcó.