Palma Nova is located on the southwest coast of Mallorca within walking distance from the popular holiday resort Magaluf. Of the two holiday resorts, Palma Nova is the most family-friendly, whereas Magaluf is perfect for young people looking for a party.
Palma Nova also has many fine hotels. According to the users on TripAdvisor, the best family hotel is the 4-star apartment hotel Zafiro Palmanova
. The hotel has a large separate pool area for the children and very nice buffet food.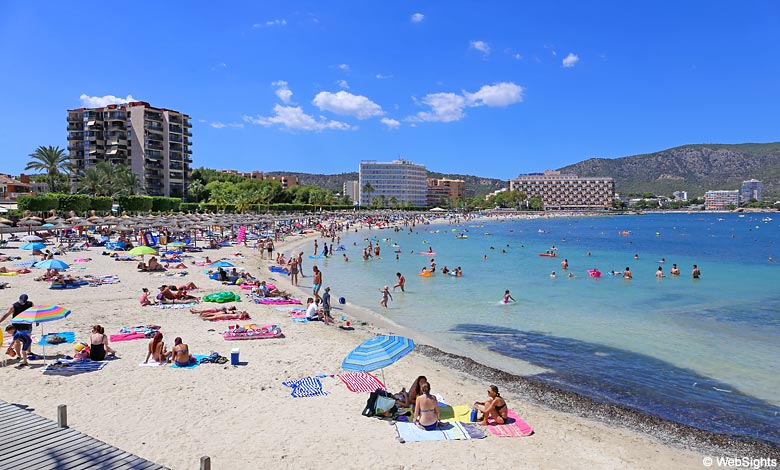 The beach in general
Palma Nova has three nice beaches very close to the town. The main beach, Playa de Son Maties, is 400 metres long, whereas the two other beaches are slightly smaller.
All three beaches have fine-grained sand and lovely clear water. At a distance from the shore, there is a raft from where you can jump and slide into the water. This is very popular among the older children. The beaches have all facilities possible, including sun lounges, sunshades, showers and toilets. Furthermore, there are also wheelchair ramps.
The sea front 'Passage de la Mar' connects all three beaches and is perfect for a stroll after dinner.
Child-friendliness
All three beaches are child-friendly. Lovely sand to play in and shallow water. There are several playgrounds behind the beaches.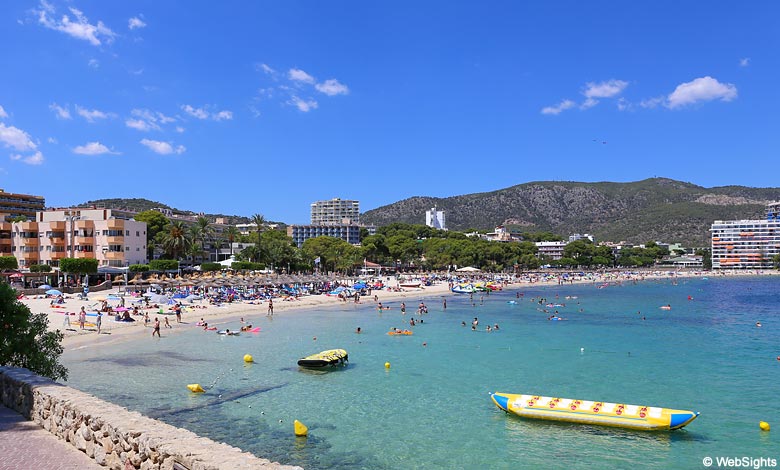 Water sports activities
There are many water sports activities, particularly at Cala Blanca. If you need a water activity, you can take a walk to Magaluf – here you will be sure to find it. Another option is nearby Western Water Park.
Beach restaurants
There are many restaurants and beach cafés along the sea front.
One of the best ones is My Tapas, which has a fine selection of classic tapas dishes. If you need a fast meal, the sea front also has many fast-food restaurants, including McDonalds.
Palma Nova holiday resort
The relatively large holiday resort Palma Nova is the obvious choice for a family holiday. There is a wide variety of shops, restaurants and child-friendly activities, for instance in the large miniature golf centre, Golf Fantasia.
Close to Palma Nova, you will find the very popular water park Western Water Park and The Pirates Show, which is the biggest show with dancing and acrobatics in Mallorca.
---
Our video from Palma Nova – subscribe to our Youtube channel.
---
Palma Nova map
The map shows all three beaches. The main beach is the one to the south – so there will be more room at the two other beaches. A bit further to the south, you will see Magaluf. A bit further to the west, you will see Santa Ponsa.