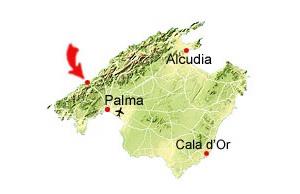 The small town of Banyalbufar is located on the west coast of Mallorca, bordering on the Serra de Tramuntana mountain range. The town is inhabited by around 500 permanent residents.
The beach in general
Cala Banyalbufar is a narrow beach with a length of about 100 metres. The beach is located in a beautiful bay and surrounded by steep cliffs and mountains.
Only a small portion of this stretch can actually be considered a beach and this section offers a surface of pebbles and coarse gravel. You can still lie down comfortably and the view from the beach is worth five stars at the very least!
On top of that, the water is gorgeous, its waters clear with blue and turquoise hues. There are stones in the water, but if you want to go for a swim, you couldn't find a bay more perfect than this.
You can park your car a couple of hundred metres from the beach. Note that the high mountainsides surrounding the beach mean that the sun doesn't reach it until sometime between 11am and 12pm.
Child-friendliness
Due to the many stones on the beach, Cala Banyalbufar isn't particularly child-friendly. The closest child-friendly beach on the west coast is the main beach in Port de Sóller.
Water sports
There are no water sports available, but the beautiful bay is perfect for diving and snorkeling.
Beachside restaurants
The closest restaurants are in the town centre, a 15-minute walk from the beach.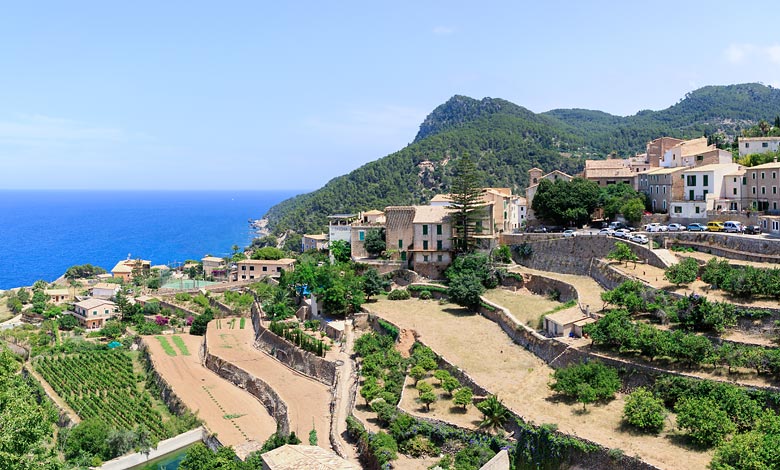 The town of Banyalbufar
Banyalbufar is a quiet, picturesque town. Its location ensures a gorgeous view of the Tramuntana mountains and the Mediterranean.
The town is famous for its terraced mountains where oranges and tomatoes are grown. Southwest of Banyalbufar, you'll find the popular guard tower known as Torres des Verger, which was erected in 1579. The tower is accessible on foot from Banyalbufar and the town is generally a great base for hikers.
There are a few hotels in town, not to mention enough restaurants to keep you satisfied all week. The restaurant people tend to recommend is Can Paco where you can treat yourself to delicious paella and plenty of grilled meat. The restaurant with the best view is Café Bellavista.
---
Banyalbufar map
As the map shows, the beach is located deep in the bay with a few fishing boats on the right. The parking lot is visible on the left corner of the map.