Beaches in the south of Mallorca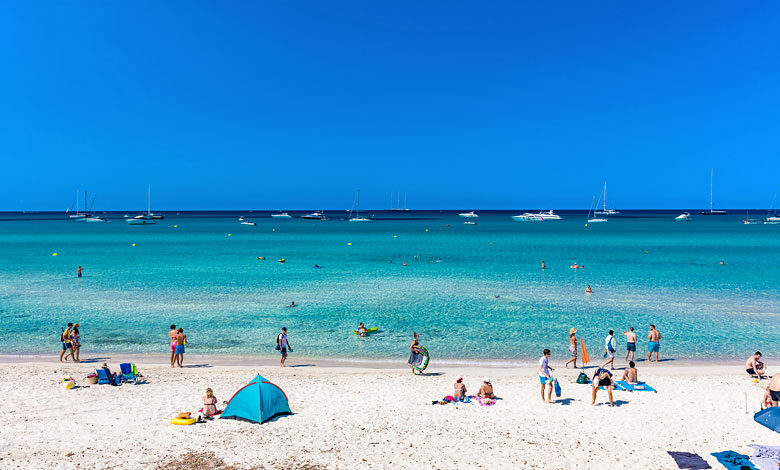 The southern part of Mallorca has an unspoiled landscape as far as the eye can see. Combined with charming villages and exotic beaches, this part of Mallorca is perfect for all nature lovers.
In particular, the south coast of Mallorca is home to the island's most famous beach, which is also among the best ones in Europe. Naturally, the beach in question is Es Trenc. With its almost white sand and turquoise water, the beach is also referred to as the Caribbean of Mallorca. A long natural beach located in a conservation area, so here are no hotels or similar buildings.
For those who think that Es Trenc is too crowded, luckily, there are several good alternatives. One kilometre to the northwest, you will find s'Arenal de sa Ràpita, another natural beach which is quite similar to Es Trenc. Those who are not shy of a short walk should go visit the lovely beach Es Caragol (picture above), which is never too crowded. Here the visitors will experience the genuine beauty of south Mallorca in peaceful surroundings.
The largest holiday resort in south Mallorca is Colonia Sant Jordi. In this relatively quiet holiday resort, you will find the town beach Es Port close to the harbour, and a few hundred metres east of the town, you will find the natural beach Es Dolc, which is somewhat bigger. Even further to the east, you will find several other beaches, in particular Platja d'es Carbó.
Another charming holiday resort is the slightly smaller Cala Pi (picture above). The beach of the same name is impressively located deep inside a rocky bay, which is 300 metres long. A perfect holiday resort for visitors, who would like to stay close to the wild nature, but also have a few restaurants and shops nearby.
However, the southern part of Mallorca is more than just beaches and impressive natural landscapes. Further into the land, you will find several old villages, which have retained much of their original charm. Some of these are the relatively big town Llucmajor and the smaller towns Campos and Felantix. These towns are always worth a visit, but many people visit them on the local market days.
---
Mallorca south map
The beautiful white beach in the central part of the map is Es Trenc. Es Caragol, which is just as beautiful – or perhaps even more – is located near the south point, whereas Cala Pi is located in the north-western corner of the map.