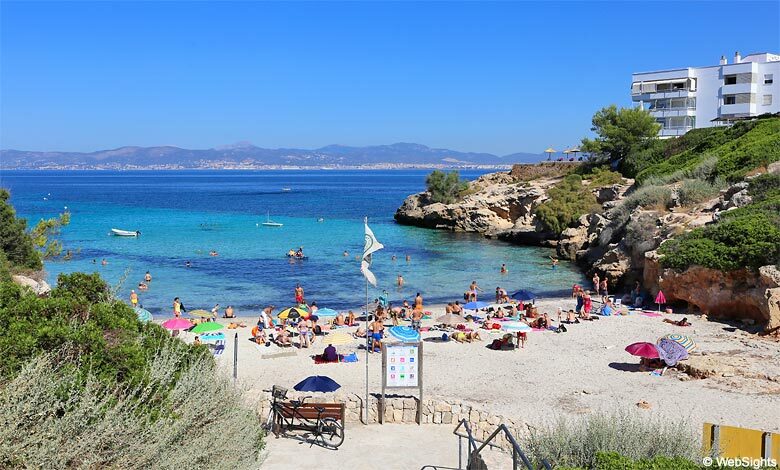 Cala Blava is a quiet resort town 2-3 km southwest of the resort town of S'Arenal, and at the same time Cala Blava is the name of the area's only real sandy beach. For those who live in Palma de Mallorca it is a 15 km long drive.
The beach in general
Directly translated Cala Blava means the Blue Bay, but among the locals the beach is also known by the names of Cala Mosques and Cala Mosca.
Cala Blava is a lovely beach that is well protected inside a beautiful little rocky bay. The beach is covered with fine-grained sand, while behind the beach there is more coarse sand and boulders. In the water there is also sandy bottom, and the water only slowly gets deep.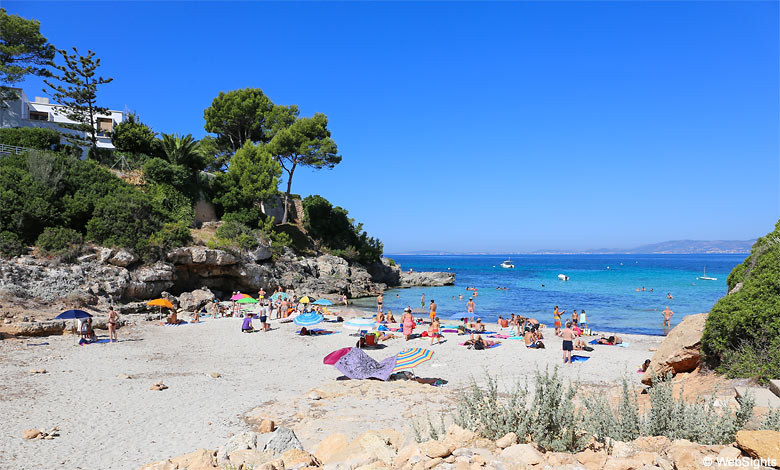 There are no facilities on the beach, nor sunbeds, umbrellas and toilets. The lack of amenities is probably one of the reasons why this lovely beach is rarely completely full. It is almost exclusively residents from the nearby rental houses who visit Cala Blava.
It is recommended to take a walk on the low cliffs along the coast. To the south, the small pebble beaches Caló de ses Lleonardes and Caló Fort appear quite quickly.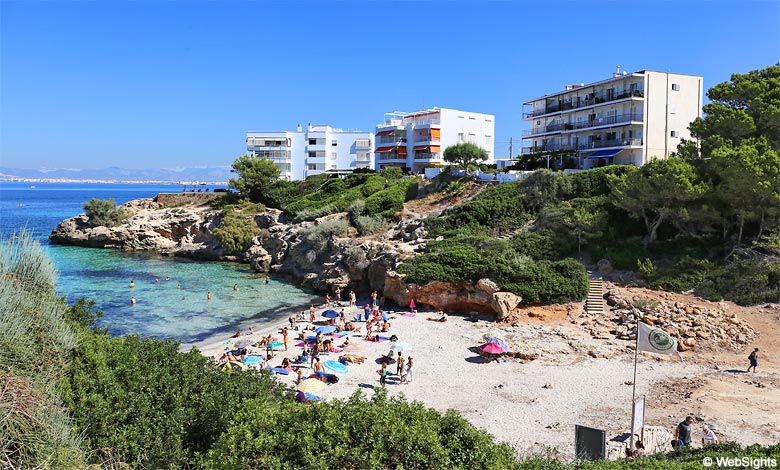 Child friendliness
Cala Blava is a very child-friendly beach with fine sand and shallow, calm water. However, there is no room for ball games and other games that require plenty of space.
Water sports
There are no water sports offered at Cala Blava, but there will be at the beaches in S'Arenal and Playa de Palma a few kilometres away.
Restaurants by the beach
There are no restaurants or beach bars at Cala Blava, but there is a restaurant about 150 meters away from the beach – even if it says 50 meters on the sign by the beach.
The resort town of Cala Blava
Cala Blava is a nice and peaceful holiday village consisting almost exclusively of private holiday homes and holiday apartments. There are no hotels, but some of the houses and apartments are rented out privately.
There are only a few restaurants and shops, but a few kilometers away is S'Arenal with its many restaurants, cafes, bars and shops.
---
Map of Cala Blava
Cala Blava can be seen on the left-hand side of the map. The restaurant is located at the bottom of the map.