Ses Covetes is a small town in southern Mallorca located roughly four kilometres south east of the slightly bigger town of Sa Ràpita.
The beach in general
The lovely beach of Ses Covetes is also known as Playa ses Covetes. It is 300 metres long and has an average width of 20-25 metres.
The beach is covered in fine, white sand and the shallow water shimmers in beautiful turquoise shades. The back of the beach borders on sand dunes, although these are fenced off by a small straw fence. It is possible to rent sun loungers and parasols on the beach and grab a snack and drink at the restaurant and kiosk.
In July and August, Ses Covetes tends to get quite busy, so you might want to consider visiting the neighbouring beach of Es Trenc.
With some luck, visitors can benefit from the free parking spaces by Ses Covetes. Otherwise it is possible to park for a manageable fee in the parking lot shared with Es Trenc.
Child-friendliness
Ses Covetes is a shallow beach, making it child-friendly in that aspect. However, the amount of space available for the little ones to play in tends to be limited in July and August.
Water sports
There are no motorised water sports on offer at Ses Covetes and the same applies to the neighbouring beaches of Es Trench and Arenal de Sa Ràpita.
Beachside restaurants
At the back of the beach, there is a large beachside restaurant/bar with an ocean view.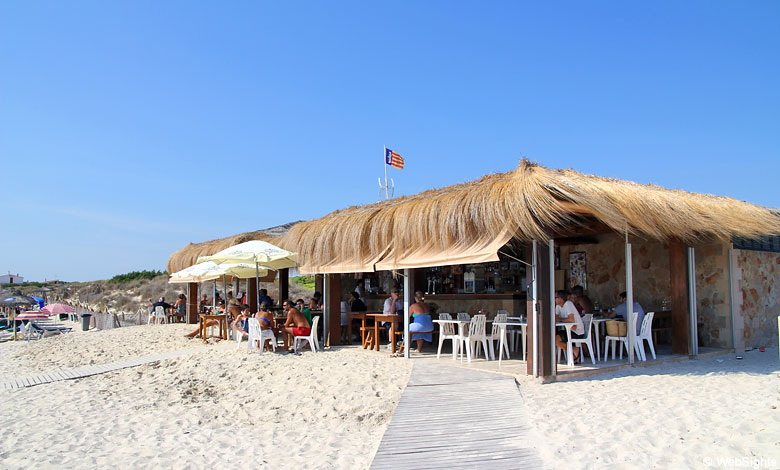 The village of Ses Covetes
Ses Covetes is a small village with fewer than 100 permanent residents. There are no hotels, but some of the private holiday homes are available to rent. The nearest hotels are in Sa Ràpita and Colonia Sant Jordi.
There are 4-5 restaurants/cafés in Ses Covetes as well as a small supermarket, which is perfect for your beach shopping. The town is popular in the summer because of its location in close proximity to Es Trenc.
---
Playa ses Covetes map
Playa ses Covetes comprises the first 300 metres of beach northwest of the small town. Further northwest of the beach, you will find Arenal de Sa Ràpita. The invisible border between the beaches is right by the house you can just about make out on the map. On the other side of Ses Covetes, you will find the most famous natural beach in Mallorca, namely Es Trenc.