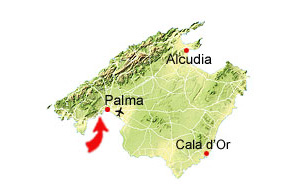 Joan Miró, the famous painter, was born in Barcelona in 1893. Even as a child, he had a knack for drawing and a desire to become an artist, but at his father's request, he chose to put himself through a high school education and a subsequent career as an accountant. It quickly became apparent that the life of an accountant just wasn't for him, and he quit after a couple of years.
During his time as an accountant, he had taken some courses at an art academy, and from 1912-1915, he studied at Francisco Galí School of Art. His career took off quickly after that, and as time went on, his surrealist paintings and abstract sculptures became the subjects of international recognition.
Joan Miró's mother was from Mallorca, and Miró ended up married a woman from Mallorca himself. As a result, it become a frequent holiday destination, and he felt incredibly inspired by the light on the island. In 1956, at the age of 63, he moved to Cala Mayor, where he built his house, Son Abrines.
He lived and worked in Cala Mayor until his death in 1983. Before his death, he and his wife founded the Fundació Pilar i Joan Miró a Mallorca. In connection with this, they donated the house, workshops, and thousands of artworks to the authorities in Palma de Mallorca.
In 1992, the Joan Miró museum opened in a new, exciting building designed by the Spanish architect, Rafael Moneo. The museum is an extension of Joan Miró's first workshop, Son Boter, and the newer workshop, Taller Sert. The beautiful gardens are home to some of his larger sculptures. Aside from works from Joan Miró, the museum puts on different exhibitions from other talented artists.
All art lovers and aficionados should visit the museum at least once. Time flies in this creative hotspot, and there is even the option to take a break at the café in the garden. If you want to buy a Joan Miró souvenir, you can do so in the giftshop.
The museum is open all year, but closed on Mondays. You can find more information on the website.
---
Map of Joan Miró museum