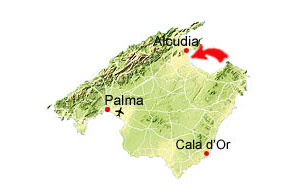 Playa de Muro is relatively new holiday destination in the Alcudia Bay, which is located between the two classic destinations of Port d'Alcudia og Ca'n Picafort.
An overview of the beach
Playa de Muro is home to an incredibly beautiful beach that is officially divided into two so-called sectors. Sector 1 is more central and offers a full 3-kilometre stretch of beach.
The beach is home to white sand and clear water. The water is shallow but not quite as shallow as Port d'Alcudia. On top of that, the risk of waves is a little higher on the beach in Playa de Muro.
All the necessary amenities, such as sun loungers, parasols, showers, and toilets, are there for visitors to use. Some sections of the beach are also equipped with lifeguards to keep an eye on all guests.
A long jetty stretches out into the water, and different tour boats depart from here. The end of the jetty can also be used for jumping into the sea.
Child-friendliness
The beach is shallow, and there is plenty of space to play, so all in all, it is very child-friendly.
Water sports
You can find all sorts of water sports at Playa de Muro, such as parasailing, banana boating, water skiing, jet skiing, etc. Guests who aren't quite as brave can opt for a classic pedalo.
Beachside restaurants
There is a selection of restaurants, cafés, and beachside bars along the beach. The streets behind the beach are home to a series of minimarts.
Playa de Muro resort
Playa de Muro is a relatively new holiday destination that has sprung from the popularity of Port d'Alcudia. Many of the hotels are equipped with swimming pools and offer various activities tailored to families with children. A good example is the family-friendly Iberostar Alcudia Park, which is right next to the beach.
The town has everything a family with children could possibly want for their summer holidays, including supermarkets, restaurants, souvenir shops, and a chemist. If you need a change of scenery, the bustling Port d'Alcudia or the historic quarter in Alcudia are nearby (markets on Tuesdays and Sundays).
There is a beautiful wetland area near Playa de Muro, known as Parc Natural de S'Albufera. With its diverse nature and innumerable species, the park is heaven for lovers of nature, regardless of age.
---
Playa de Muro map
The satellite image shows the central section of the beach in Playa de Muro. You can just about make out the long jetty on the image. Port d'Alcudia lies to the north and Ca'n Picafort to the south.