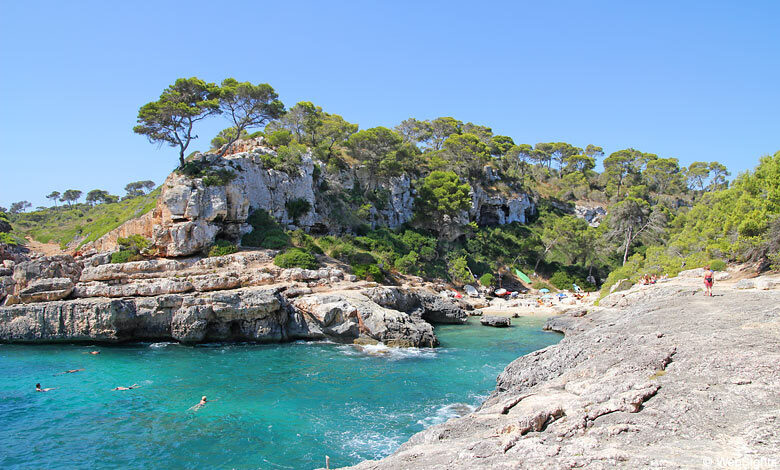 Cala s'Almunia is a very small town consisting of just 30-40 houses. It's not far from the southern tip of Mallorca, and the closest major town is Santanyi 5 kilometers to the north
The beach in general
The beach in Cala s'Almunia shares its name with the town, but is also called Es Maquer. It is incredibly beautifully situated in a rocky bay surrounded by pine trees.
The small beach is just 10 meters long and 30 meters wide. There are a few rocky outcroppings on the beach itself, but there are also areas of sand/gravel. During certain periods, however, there is hardly any sand on the beach. The water is crystal clear and very inviting for swimming.
There are no toilets or other facilities near the beach. Parking is along the small streets, and from here a long, steep stairway leads down to the beach.
A path leads from the more popular beach of Calo des Moro to Cala s'Almunia. The path continues to the southern tip of Mallorca, Cap de Ses Salines. The entire trip is about 8 kilometers long and takes three hours on foot. A beautiful trip for those who are up to it.
Child friendliness
The water at the beach is shallow, but there is rarely much room to play on the beach. Note also the long, steep stairway down to the beach.
Watersport activities
There is great possibilities for snorkeling in the beautiful bay. The rocks are often used as jump-off points, but make sure to check the water depth first!
Beach restaurants
There are no restaurants or bars near the beach. The closest restaurant is in Cala Llombards a few kilometers away.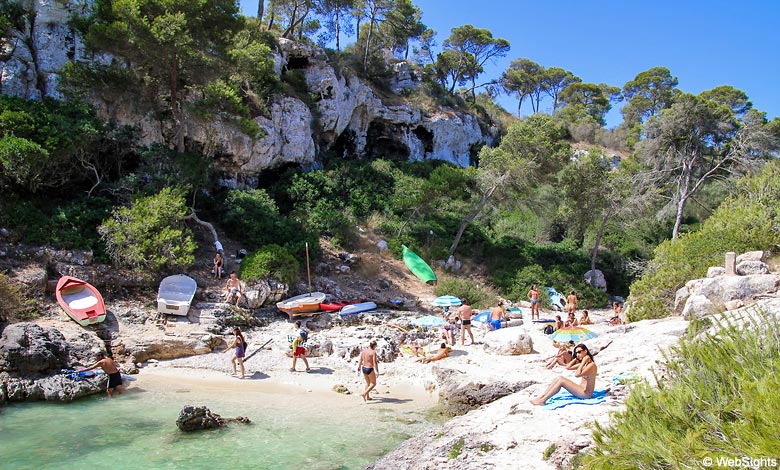 Nearby holiday resort
The slightly larger town of Cala Llombards is located a few kilometers to the northeast. Here, there are a number of private vacation homes in addition to a beautiful beach. The closest real holiday resort is Cala Santanyi 4 kilometers to the northeast – a relaxed resort with a few large hotels and a handful of restaurants.
---
Cala s'Almunia map
It may be hard to see, but the beach is in the middle of the map. In the other end of the bay, some local fishermen have their boats. Further to the east is the even more beautiful beach of Calo des Moro.