Sa Ràpita is a small town on the south coast of Mallorca, located around 11 kilometres southwest of Campos. The closest large holiday town is Colonia Sant Jordi to the east.
The beach in general
S'Arenal de sa Ràpita stretches across a distance of 1.1 kilometres, from Sa Ràpita harbour to 300 metres before Ses Covetes, where the name of the beach changes to Playa Ses Covetes.
The beach is around 25 metres wide and covered in fine, almost-white sand. The water is very clear and shimmers with the most beautiful turquoise colours. This means that the beach has the same characteristics as the famous Es Trenc, only S'Arenal de sa Ràpita is nowhere near as busy.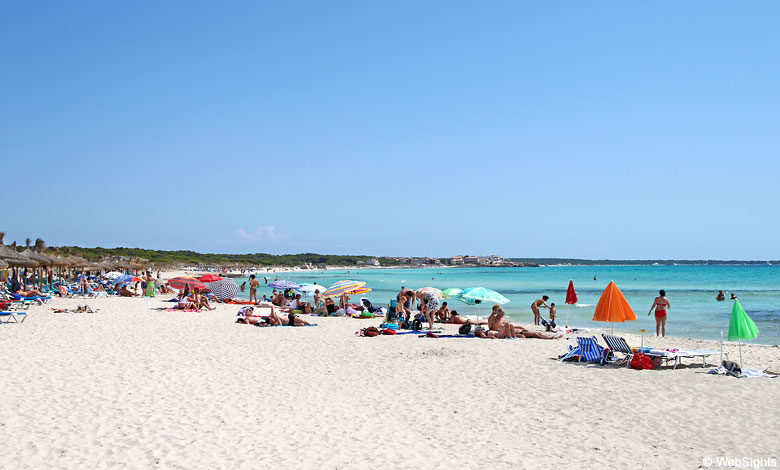 You can rent sun loungers and parasols on the beach. Other facilities include showers, toilets, and lifeguards during the summer months. The best place to park is at Club Nautico by the harbour, where you will find a mixture of free and affordable parking spots. There are plenty of parking spots.
Child-friendliness
The beach is covered in soft sand, and there is plenty of space for the small ones to play. On top of that, the water is shallow, making the beach a good destination for families with children.
Water sports
Although there are no rental facilities, the beach offers excellent windsurfing conditions.
Beachside restaurants
As mentioned, the beach begins at Sa Ràpita harbour, and this point of origin is also home to a restaurant. There is a popular beach bar on the beach as well.
The town of Sa Ràpita
Sa Ràpita is a small, relatively quiet town. There are no big hotels to speak of, but the market has slowly begun to fill up with private holiday homes.
Aside from the marina and the beach, there isn't much to see. There are a few small markets, a chemist, and 8-10 cafés and restaurants. One of the highlights is the homemade ice cream at Heladeria Cardinelli.
---
Map of S'Arenal de sa Ràpita
The beach is located between Sa Ràpita harbour and the small town of Ses Covetes. The last 300 metres of beach are part of Playa Ses Covetes, which links up to Es Trenc, the most famous beach on the island.