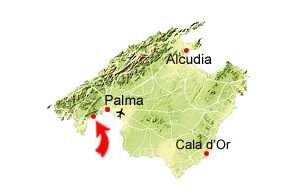 Portals Nous is situated in the southwestern part of Mallorca, some 10 kilometres from Palma de Mallorca.
The beach in general
The lovely beach in Portals Nous is named Platja de Portals Nous but is also referred to as Platja de s'Oratori.
The 100 metres long beach has fine, golden sand and the water is very clear. The view across to the marina and the small island in front of the beach is very beautiful. The beach is well attended during the summer months, but rarely too crowded.
Visitors arriving by car must prepare themselves for a little walk as the number of parking spaces close to the beach is limited.
Child friendliness
Usually good space for playing in the fine sand. The water is not particularly shallow.
Water sports
It is possible to hire Jet Ski, kayaks and windsurfing equipment from the port-end of the beach. Pedal boats can be hired at the beach.
Beach restaurants
There is a small beach bar on the beach itself. At both ends of the beach you will find a modern bar/café with lounge music and splendid sea views.
The resort Portals Nous
Portals Nous is a small but very exclusive resort. It is especially known for its port 'Puerto Portals' with expensive yachts and sailboats side by side.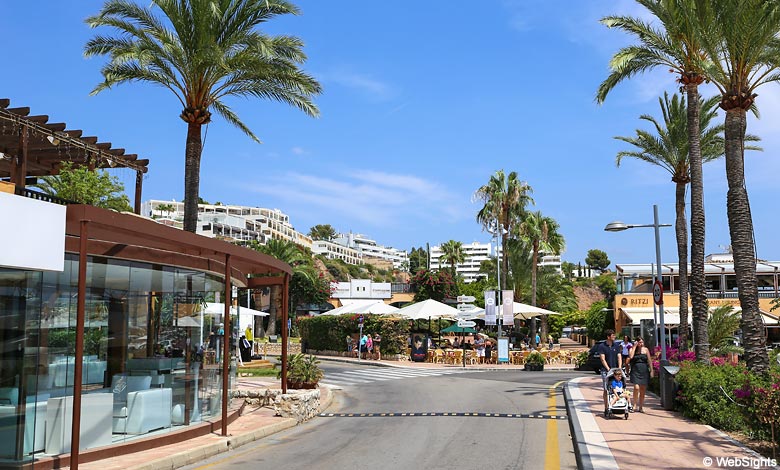 The port area is also known for the many excellent and quite expensive restaurants serving all types of cuisine. Just behind the harbour is a nice shopping center with exclusive clothing stores, jewelry stores, etc.
The best hotel in Portals Nous is the 5-star luxury hotel Iberostar Grand Portals Nous, located right next to the beach. An absolutely fantastic hotel with fascinating rooms, a gourmet restaurant, the hotel's own art gallery and much more.
---
Portals Nous map
The beautiful satellite photo shows Platja de Portals Nous next to the port. At the other end of the beach there are some low cliffs and the magnificent view is completed with the small island in front of the beach.