The holiday resort Illetas, also known as Illetes, is located 10 km southwest of Palma de Mallorca, between Portals Nous and Cala Major.
The beach in general
Platja d'Illetas, which is the largest beach in Illetas, is beautifully situated inside a bay. The beach is surrounded by hotels, but the many large trees contribute to a cosy atmosphere at the beach.
The lovely sand beach is about 200 metres long and up to 50 metres wide. It is possible to rent sun lounges and sunshades at a section of the beach, and these are very popular during the high season. In the back of the beach, it is possible to buy different massage types and, naturally, there are also showers and toilets at the beach.
The small beach Cala Comptessa is located to the south of the beach, only a few minutes away on foot. And a bit further to the south, you will find Cala Xinxell in very beautiful surroundings.
Visitors coming by car will be able to park in the streets behind the beach. In July and August, it may be difficult to find an empty parking space, and a bit of patience will be required.
Child-friendliness
The water is very shallow and there are rarely any waves. During the height of summer, however, there is not much room to play.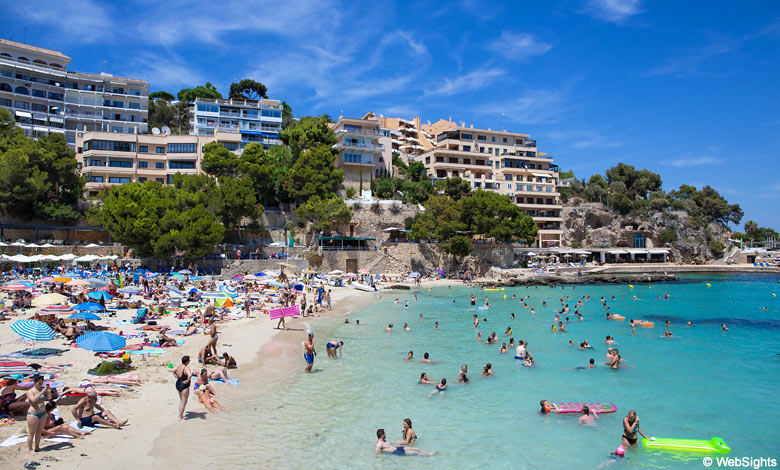 Water sports activities
It is possible to rent water bikes, but apart from that, there are no water sports activities.
Beach restaurants
There are three restaurants right behind the beach, and several of the tables have a great view over the bay. One of the restaurants is also a beach bar, serving cold drinks and ice cream.
Illetas holiday resort
Illetas is an exclusive holiday resort not far from Palma de Mallorca. The hotel standard is generally high, and most of the hotels have four or five stars; including the romantic Barcelo Illetas Albatros, which is reserved for adults.
Along the winding main street, Paseo de los Illetas, there is a small selection of restaurants and bars as well as some small tourist shops. In the northern part of town, there is a small centre with a supermarket.
If a day of shopping is desired, Palma de Mallorca is not far away. A bit further to the southwest, you will find Portals Nous, which is home to some of the best restaurants and most exclusive nightclubs in Mallorca.
---
Illetas map
The map shows the beach inside the bay surrounded by large trees. If the map is moved towards the southwest, Portals Nous will appear. To the northeast, you will find Cala Major, which is home to the summer residence of the Spanish royal family.