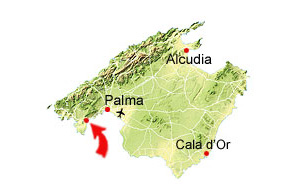 Western Water Park near the holiday village Magaluf is the largest water park in Mallorca, and many see it as the best of the three water parks in Mallorca.
Western Water Park has a lot of different water slides. Most of them can be enjoyed by the whole family, and several can be used by two or more people. In 'Big Hole', the whole family can fit in the large ring, which slides down the huge water slide.
Those that feel a bit braver can get an extra adrenaline kick in 'The Beast', which quickly drops with 30 meters. In the new 'El Látigo', you can quickly get to a high speed, and the closed pipes have some sharp turns.
In 'Kidzworld', the smaller children have their own pool area with low water and a huge climbing castle. There are several small water slides and other fun things to try. All children can have fun here.
The whole family can also enjoy the huge pool area. You can get artificial waves once an hour in one of the pools. Next to the pool areas, there is a large park area where you can lie down in peace if you feel like it.
With its beautiful Western town, Western Water Park has something that other water parks in Mallorca don't. The Western town is excellent if you want a break from bathing, and besides looking at the beautiful houses, there are also different shows. In Westernland, Indian Town and El Paso, you can also find restaurants with burgers, pizzas, salads and, of course, desserts.
In 2023, the entrance fee for the water park is 34 euros for adults and 14-26 euros for children. If the tickets are bought on their website, you can save approx. 10% on the tickets.
The two other water parks on Mallorca are Aqualand El Arenal in Palma Bay and the smaller Hidropark near Port d'Alcudia on the northern coast. See also our top 10 list of activities for families.
---
Western Water Park map
Western Water Park is in a nice spot between the holiday villages Magaluf, Palma Nova and Santa Ponsa, but the guests arrive from holiday villages all around Mallorca.