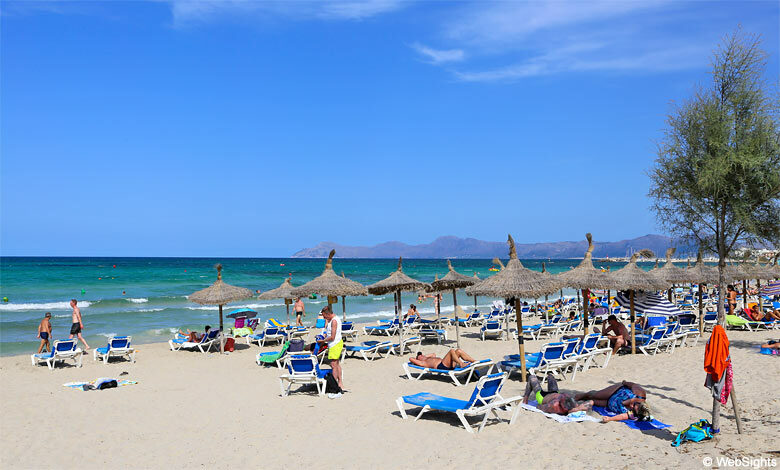 Ca'n Picafort is located in the Alcudia bay on the north coast of Mallorca, approx. 10 kilometres southeast of Mallorca's most , Port d'Alcudia.
The beach in general
Playa de Ca'n Picafort is almost 1.5 kilometres long and the main beach in Ca'n Picafort. The beach has bright, fine-grained sand and the water is relatively shallow.
The beach has all the necessary facilities, such as sun lounges, sunshades, showers and toilets. During the high season, the beach is supervised by several lifeguards.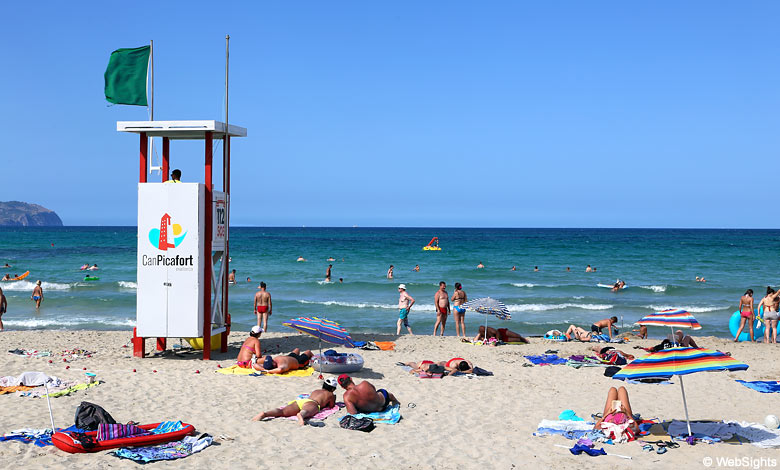 In front of the hotels, the beach is usually quite crowded, but if you go a little further away, there is plenty of room. Behind the beach, there is a wide seafront where no cars are allowed. The seafront passes the harbour and goes all the way to the hotel area and the Son Baulo beach.
Visitors coming by car can park in the streets behind the beach.
Child-friendliness
The shallow water makes the beach suited for children, even though the water is not quite as shallow as in the nearby Port d'Alcudia. The beach is not as well protected against waves, but most days this is not an issue.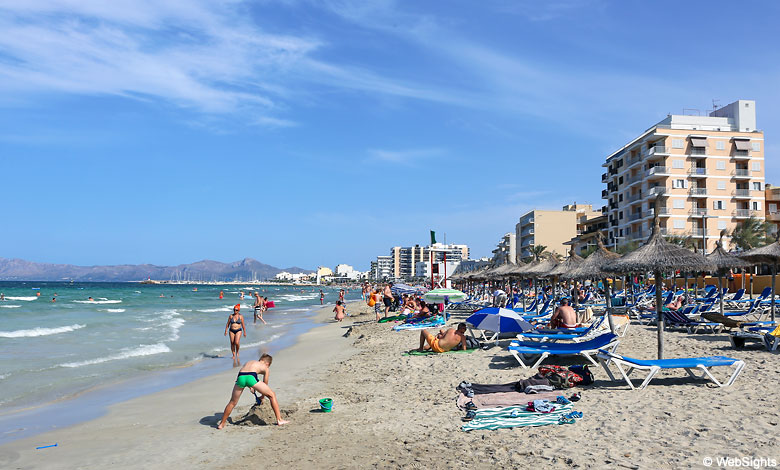 Water sports activities
A fine selection of water sports activities, such as water skis, banana boat, windsurfing and the conventional water bikes. So there are activities in and on the water for the entire family.
Beach restaurants
Along the seafront, you will find many restaurants, cafés and bars. You could for instance try La Santa or Sa Roqueta right next to the beach, both getting great reviews from the guests.
Ca'n Picafort holiday resort
Until the end of the 1960s, Ca'n Picafort was an obscure fishing village with 200 inhabitants, but quickly developed into one of the first holiday resorts in Mallorca. Particularly popular among German tourists.
Today a large part of the town is renovated, guests come in from all over Northern Europe, and Ca'n Picafort is up to the standard of other holiday resorts in Mallorca. To enjoy a day of shopping, you can visit the streets Paseo Colom and the busy shopping street Josep Trias. The restaurants in town with the best reviews are La Pinta and Rapha's La Terracita.
The most family-friendly hotel in town is Zafiro Can Picafort
, which has a giant pool for children with a pirate ship, a club for children and entertainment in the evening for both children and adults.
---
Our video from Ca'n Picafort – subscribe to our Youtube channel.
---
Ca'n Picafort map
The seafront goes all the way to Son Baulo. To the northwest, you will first see Playa de Muro and then Port d'Alcudia.