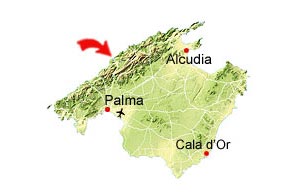 Few places on Mallorca are as complete as Torrent de Pareis. Big mountains, a beautiful bay, nice little beach, and an incredible canyon with up to 300-meter-tall mountain walls. Torrent de Pareis is an attraction that has it all!
The drive alone to Sa Calobra, the small town near Torrent de Pareis, is worth the trip. From the twisted mountain roads, there is an incredible view to the Tramuntana mountain range, and on the last 12 km, there is a total drop of 800 meters down to the coast. It is not a trip for those that easily get motion sickness.
The place is very popular with lots of cars, buses, boats and even bikes coming through during the day. Therefore, most idyllic time of the day is in the morning, so get there early. Then you can also find a parking spot near Sa Calobra.
From Sa Calobra, it is a small walk (approx. 400 meters) towards the outlet of Torrent de Pareis. The last part goes through a quite small tunnel, and afterwards, you are met by an impressive sight. A huge, open area, surrounded by tall mountain walls and a small, charming stony beach. In the bay in front of the beach, there are almost always a couple of large and small yachts and boats anchored.
Many choose to take a walk in the canyon and then turn around once it gets too hot and strenuous. This happens quickly during the summer months. Afterwards, it is great to bathe near the small pebble beach, which is quite special in itself with the tall cliff walls on both sides of the beach.
There are also those who choose to hike through Torrent Pareis. It is a strenuous journey of 6-7 km, which requires the right equipment and preferably lots of experience. Those with less experience can join a guided tour. With or without a guide, most people start the hike in the small town of Escorca and then walk towards the coast. The trip will take 4-6 hours this way, while you should count with around an hour more in the opposite direction.
An entirely different way to get to Sa Calobra and Torrent de Pareis is by boat from Port de Sóller. There are several departures every day and the approx. 1-hour long boat trip is a feast for the eyes.
---
Torrent de Pareis map
Cars, buses, and tour boats all arrive to the city Sa Calobra on the left of the map. The path towards Torrent de Pareis is highlighted, and it is possible to follow the entire trip towards Escorca on the map.