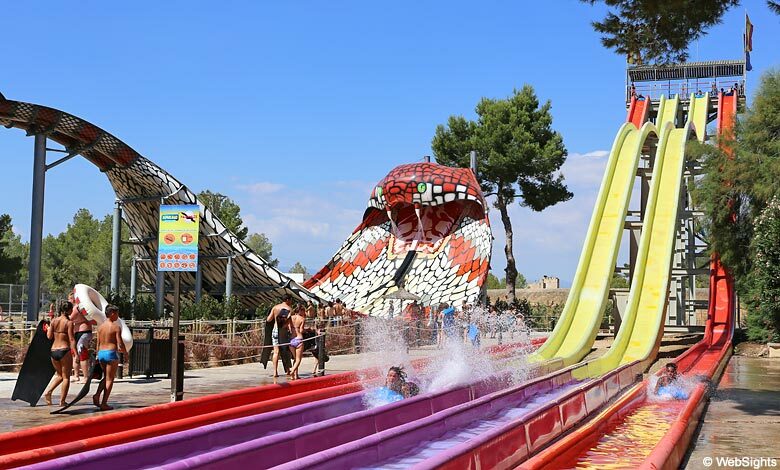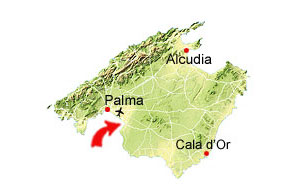 Aqualand is the self-proclaimed biggest waterpark in Mallorca – just like Western Water Park by Palma Nova. We won't get involved in the politics of that debate, but simply mention that both waterparks are sizeable and filled with activities to entertain the entire family.
The official name of the waterpark is Aqualand El Arenal, and you'll find it on the outskirts of El Arenal, around 12 kilometres southeast of Palma de Mallorca.
Aqualand offers 20 activities, 14 of which are different kinds of waterslides. The biggest adrenaline rush in the entire waterpark is Kamikace, which is so steep that it almost feels like a free fall. Banzai is fairly steep as well, although it involves gliding over the water on a foam board.
One of the most beautiful slides in the park is King Cobra. As the name implies, the structure is painted to look like a giant cobra. There are plenty of other fun waterslides, including some where you sit in single or double rings, and some where up to four people race each other to the bottom (Crazy Race).
If you want to calm down after an adrenaline rush, there are plenty of calmer activities to choose from. How about floating along the Congo River or jumping into the big Jacuzzi? If you want a little more action, head towards one of the wave pools where guests jump around in the tall waves.
There are 3 different areas designed specifically for the youngest children in the family. All these areas are equipped with a big pool with various activities, including waterslides. Just like all the other areas, there are lifeguards on duty to keep an eye on the guests.
There are 8 different places to satisfy your hunger when it inevitably sets in. The majority of the places offer fast food like pizzas, burgers, hot dogs, and baguettes. You'll also find ice cream and refreshments.
You can park for free in the big parking lot outside the waterpark. If you want to know more about prices and hours, please refer to Aqualand El Arenal's official website.
---
Video from Aqualand El Arenal – watch our Youtube video from Aqualand El Arenal
---
Aqualand El Arenal map