Cala Llombards is a small holiday resort on the southeast coast of Mallorca. The town is called Es Llombards, whereas the beach and the bay is called Cala Llombards.
The beach in general
Cala Llombards is situated in an area of great natural beauty. The beach is surrounded by high cliffs and pine trees, providing a spectacular view from the beach.
The beach is only 55 metres long, but up to 150 metres wide. The sand is bright and fine-grained and the water is completely clear offering the perfect snorkelling conditions. It is possible to rent sun lounges and sunshades at the beach and there is also a shower to wash off the salt water. Officially, there are no toilets, however, toilets have been set up some years after all.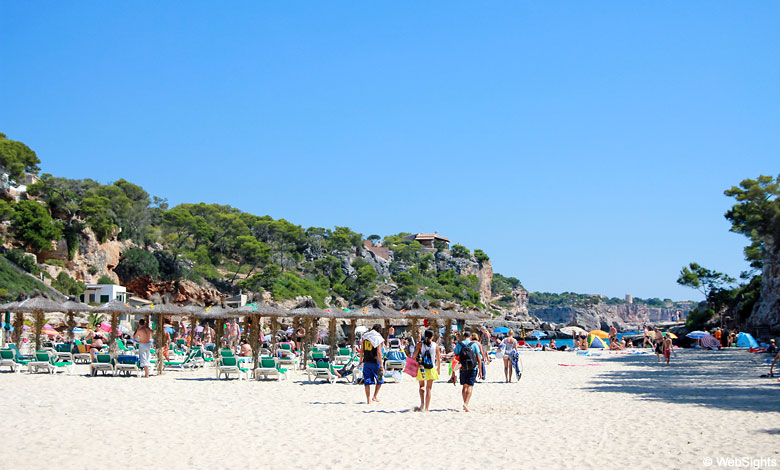 If you wish to go for a walk, you should take the trail along the coast to Cala Santanyi. Along the way you will reach Es Pontas: a big rock with the natural shape of a bridge.
The beach can be quite crowded, particularly during the weekends, but it is rarely overcrowded. There is a parking space behind the beach.
Child-friendliness
The beach has rather shallow water and is therefore very suitable for children. It has plenty of room to play, particularly in the back of the beach.
Water sports activities
There are no activities for rent, but the clear water and the cliffs are perfect for snorkelling.
Beach restaurants
The beach has a very nice 'tropical' beach bar. There are a couple of restaurants only a few minutes away.
Es Llombards holiday resort
Es Lombards is a nice and quiet town that has avoided mass tourism. It almost only consists of houses and many of these are private holiday homes. The town only has one small hotel.
At the beach, you can still see some of the small fishermen's cottages where they keep their small fishing boats and equipment.
The nearest holiday resort is Cala Santanyi a few kilometres to the northeast. The large holiday resort Cala d'Or is located a bit further away.
---
Watch our video from Cala Llombards – and follow our Mallorca Youtube channel
---
Cala Llombards map
The map shows Cala Llombards surrounded by cliffs and pine trees. To the northeast, you will find the holiday resort Cala Santanyi.