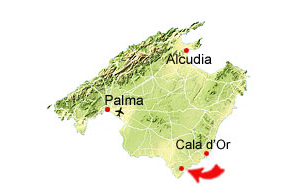 Calo des Marmols (the marble bay) is located in the southeast corner of Mallorca.
The beach in general
Calo des Marmols is a remote bay with a sandy beach, far away from Mallorca's bustling resorts.
The 40 meter long beach is surrounded by high cliffs with sporadic vegetation. The sand is white and fine, however sometimes mixed with gravel. The water is literally crystal clear.
There are not many visitors. A small number of visitors arrive by boat, while others walk the 5.5 km. long path from the lighthouse at Cap de ses Salines. It is a challenging hike, especially in the heat. However, the beach is worth the trip. Remember to bring food and plenty of water.
Child friendliness
The beach is child friendly, but the walk from the lighthouse to the beach is not suited for children.
Water sports
The conditions for snokeling are good.
Beach restaurants
None.
Resorts close to the beach
Colonia Sant Jordi is located some 10 kilometers to the northwest, while Cala Santanyi is about as far away in a northeasterly direction.
Calo des Marmols map
The lonely bathing cove in the south of Majorca. The lighthouse at Cap de ses Salines, Mallorca's southern tip, is located to the southwest.