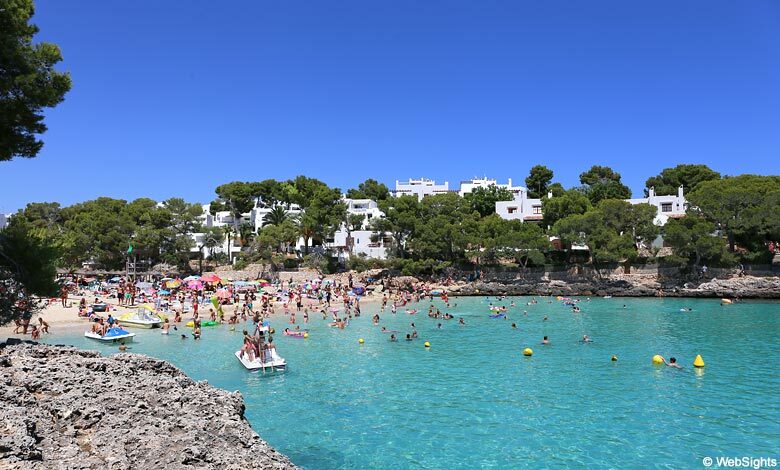 Cala d'Or is a lovely and somewhat exclusive holiday town on the east coast of Mallorca. The romantic bays and cosy town centre are ideal for a romantic getaway, but the town is also popular with families.
The beaches in general
Cala d'Or comprises five small but wonderful beaches. All of them are located far inside small bays and surrounded by cliffs on both sides.
The two biggest beaches are the central Cala Gran and the northern Cala Ferrera. Cala Esmeralda is medium-sized, while Cala d'Or (like the town) and Cala Serena are small.
All five beaches offer fine sand, and there is even the option to rent sun loungers and parasols. The water is incredibly clear and has a gorgeous turquoise colour. No matter which of the beaches you choose, it will be perfect for a swim!
Space is limited in the high season, so it pays to arrive early—or rent a car and drive to one of the natural beaches in the vicinity, such as the sizeable S'Amarador or Cala Sa Nau north of the town.
Child-friendliness
There is not always a lot of space to play during the high season. But aside from that, the water is shallow and calm, so the beaches are very child-friendly.
Water sports
Cala Gran and Cala Ferrera both offer pedalo rentals. You can rent windsurfing equipment at Cala Esmeralda, and if diving is more up your alley, Cala Ferrera is the perfect destination.
The bays are excellent for snorkelling. The water is incredibly clear and there are lots of fish by the cliffs.
Beachside restaurants
Cala Ferrera offers a selection of beachside restaurants. There is a beach bar/café at Cala d'Or, and there is an even larger selection of beach bars and restaurants at Cala Gran.
The holiday town of Cala d'Or
Cala d'Or means the Golden Bay—and the name could not be more fitting for this beautiful town on the east coast of Mallorca. There are no tall buildings, and the white houses are well-maintained and lovely. The same goes for the hotels, and the family-friendly Inturotel Sa Marina regularly receives very good reviews.
The gorgeous town centre is home to a variety of great restaurants, including the tapas restaurant Churchill's Tapas Bar. After dinner, the town is excellent for an evening stroll. If you want the best ice cream in town, Cala d'Ice is worth a visit. The nightlife is not as active as it is in many other places on Mallorca.
---
Our video from Cala d'Or – subscribe to our Mallorca Youtube channel.
---
Cala d'Or map
The map shows all five beaches in Cala d'Or. Starting down in the left-hand corner, you can see Cala d'Or, Cala Gran, Cala Esmeralda, Cala Ferrera, and Cala Serena respectively.