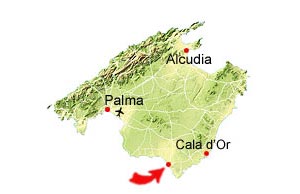 Colonia Sant Jordi is close to Mallorca's southern tip, Cap de Ses Salines.
Most of the hotels are located in the northeast of the city, which is the newest district. The 4-star Hotel THB Sur Mallorca is perfectly situated over the city and beaches. The hotel has received great reviews from its guests.
The beach in general
Platja d'es Port, or simply Es Port, is a cozy urban beach in Colonia Sant Jordi. As the name suggests, the beach is right by the harbour, which can accommodate more than 200 boats.
The beach is well protected by being inside a nice bay, so the clear water is almost always calm. The sand is bright and fine, and it is possible to rent sunbeds and umbrellas. There are also showers and toilets at the beach.
Behind the beach is a wide boardwalk with beautiful palm trees and a good selection of restaurants and cafés. On the right side of the beach is the harbour, while the pine area on the left is often a meeting place for local families. Cars can be parked for free in the streets or in a parking lot (for a fee) close to the beach.
Child friendliness
There is plenty of room to play and the water only slowly gets deep. All in all a good beach for families with children.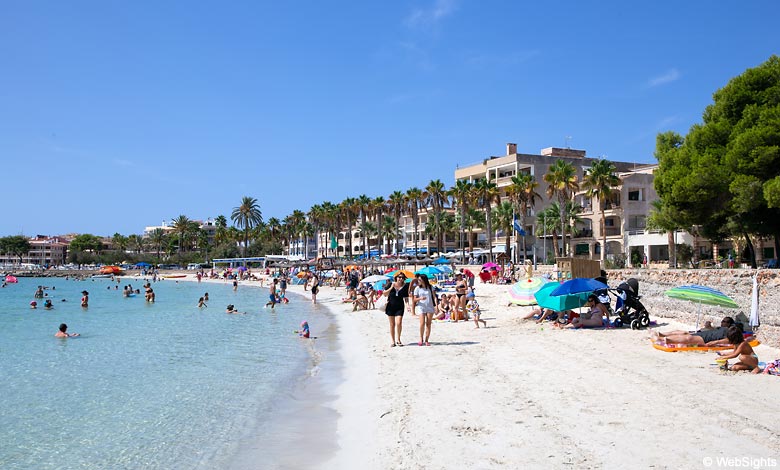 Water sports
It is possible to rent various motorboats, sea kayaks and pedalos.
Beach restaurants
Behind the beach is the seafront with cafés and restaurants. Several of them also serve as beach bars.
The resort Colonia Sant Jordi
Colonia Sant Jordi is a medium-sized resort town in southern Mallorca. Originally it was the port of Campos, located approximately 10 km. inland.
The town is cozy and quite quiet, but there are two lively areas with restaurants, cafes and tourist shops. One area is the main street Avenida Primavera in the middle of the city and the other area is by the beach/harbour. The harbour is still home to some fishing boats, but in terms of numbers they have long since been outcompeted by sailboats and yachts.
From the harbour a tour boat departs every day for the small protected island of Cabrera. A lovely experience of nature.
---
Watch our video from Colonia Sant Jordi
---
Colonia Sant Jordi map
Beach Es Port is seen next to the port of Colonia Sant Jordi. Only slightly to the east is the beach Es Dolc. To the north is one beautiful natural beach after another. The best known is Es Trenc.