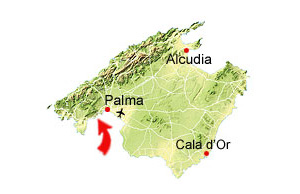 Cala Comptessa is located in the town of of Illetas, roughly 10 kilometres southwest of Palma de Mallorca.
Illetas has to other beaches to offer, the main beach Platja d'Illetas and Cala Xinxell. All three beaches located within a couple hundred metres of each other.
The beach in general
Cala Comptessa is a lovely little sand beach, nestled between low cliffs and tall trees. The beach is barely 100 metres wide and is not particularly wide.
A small number of sun loungers and parasols are available to rent. There's tough competition for the spots during the summer, so plan to show up quite early. The same goes for the parking spots nearby.
The small island Ille de Sa Caleta is located a couple of hundred metres from the shore, so experienced swimmers might want to consider going on a short excursion.
Child-friendliness
Cala Comptessa is a small beach, so there isn't much space to play. The water deepens faster here than at the neighbouring beach of Platja d'Illetas, but its location means that it's well-protected from waves.
Water sports
There are no water sport facilities at this beach.
Beachside restaurants
Further up the beach, there's a small restaurant/café and from some of the tables, you'll be met with an amazing view of the beach and the Mediterranean.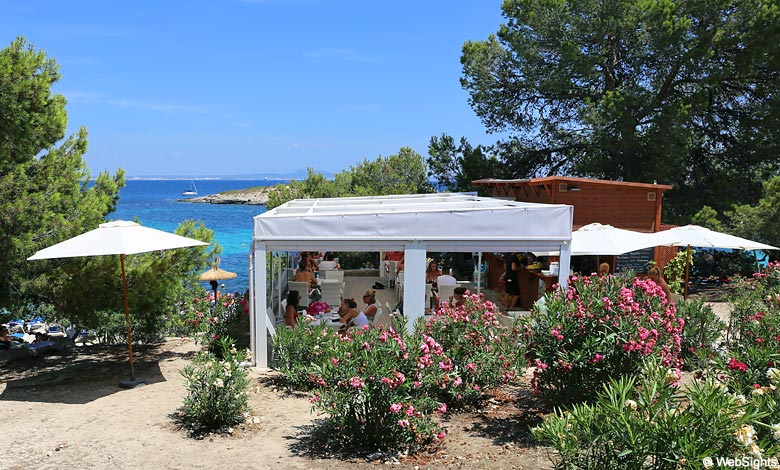 Illetas holiday resort
Illetas is a quaint and somewhat exclusive holiday destination along the snaking Majorcan coast. It has a good selection of restaurants and cafés on offer and in the northeastern part of town, you'll find a small shopping centre with shops and restaurants aplenty.
The hotels in Illetas are of a high standard, most of them having four or five stars. Naturally, this is reflected in their prices. According to TripAdvisor, Riu Palace Bonanza Playa offers the best bang for your buck.
The area around Illetas is brimming with excellent golf courses and family activities in the forms of Western Waterpark, Marineland, and Jungle Parc. Lastly, Palma de Mallorca with all its shopping, cultural, and gastronomical experiences, is only a short drive a way.
---
Cala Comptessa map
The map below clearly shows Cala Comptessa's location in the small bay surrounding by trees. The beach seen to the north is Platja d'Illetas, whereas the beach to the south is Cala Xinxell.