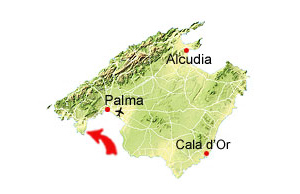 Playa del Rey is located very close to the tiny village of Portals Vells in southwestern Mallorca, about six kilometers south of the party town of Magaluf. The distance to the capital city Palma de Mallorca is about 23 kilometers.
The beach in general
Playa del Rey is located in a beautiful setting inside a rocky bay surrounded by large pine trees.
The 30-meter long and 15-meter wide beach has fine, light sand and very shallow water. At the right side of the beach, there are some outcroppings of rocks in the water. The bay and a small pier effectively protect the beach against waves.
There is an option of renting sunbeds and parasols at the beach. However, the pine trees always provide shade on parts of the beach, if you would like to save the money for a parasol. There is a small parking lot very close to the beach.
Child-friendliness
The fine-grained sand and the incredibly shallow water makes this beach perfect for families with children.
Water sport activities
There are no water sports activities, but snorkeling around the rocks is popular. The slightly more experienced swimmers can swim to the neighboring beaches, which is a very beautiful swimming route.
Beach restaurants
There is beach bar that offers the most basic refreshments. It is possible to walk along the rocks to the restaurants on the neighboring beaches Platja del Mago and Portals Vells. The latter is bigger.
Resorts near the Beach
There are several holiday resorts near Playa del Rey. The closest are Magaluf to the north and El Toro to the west. Slightly more distant are Palma Nova and Santa Ponsa, which are among the largest vacation towns in Mallorca.
In spite of this, Playa del Rey is not overrun. This is because most visitors arriving in the area spend their days on the main beach of Portal Vells. Furthermore, this beach attracts a lot of locals.
---
Playa del Rey map
Playa del Rey is one of three beaches at Portals Vells and is also known as Portals Vells III. The neighboring beach of Platja del Mago is also known as Portals Vells II, while the largest of the three beaches is called Portals Vells I. These two other beaches are both located to the south.