The lovely town Port de Sóller is located in the western part of Mallorca. It was built a long time ago as a seaport for the mountain village Sóller.
Port de Sóller has a fine selection of hotels. Take a look at the modern 4-star Fergus Soller Beach, which is located in the city center and directly at the beach.
The beaches in general
Port de Sóller has two sand beaches that are located in each end of the large bay.
The main beach is a genuine town beach, centrally located near the charming harbour. This beach is more than 200 metres long and covered with fine-grained, bright sand. The water is almost always calm, and this is the most child-friendly beach.
The other beach in town is called Platja d'en Repic. This beach is also beautifully located with large palm trees in the background. It is, however, more narrow and the first few metres into the water is covered with pebbles.
See our Youtube video from Platja d'en Repic here.
Both beaches have a lovely sea front with a fine selection of restaurants and cafés. Both beaches also have facilities such as sun lounges, sunshades and showers.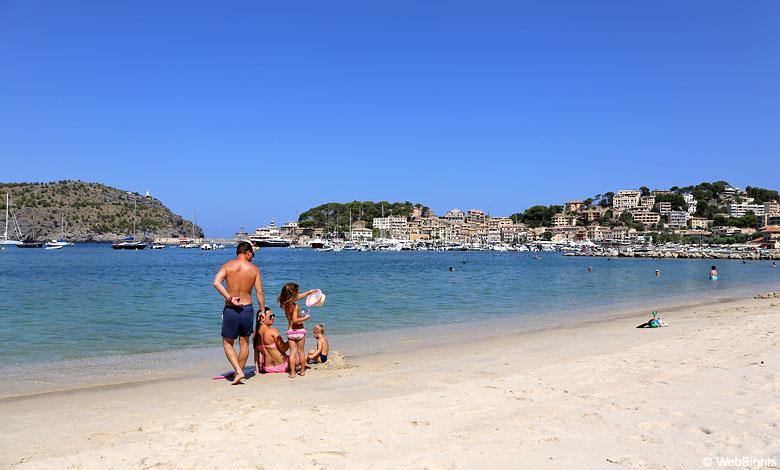 Child-friendliness
The town beach near the harbour is the most child-friendly of the two. Waves are very rare and it has fine-grained, bright sand, also in the water.
Water sports activities
At the town beach, it is possible to rent colourful water bikes and sea kayaks for one or two persons.
Beach restaurants
There is a wide selection of restaurants and cafés at both beaches. The view of the beach, the bay and the mountains is breathtaking.
Port de Sóller holiday resort
Port de Sóller is a very charming seaport, surrounded by the high mountains of the mountain range Tramuntana. It is a very scenic drive via the mountain road to Port de Sóller, but it is faster to go through the tunnel.
Another exciting option is the historic railway that has connected Palma de Mallorca and Port de Sóller since 1912. You have to change trains in Sóller.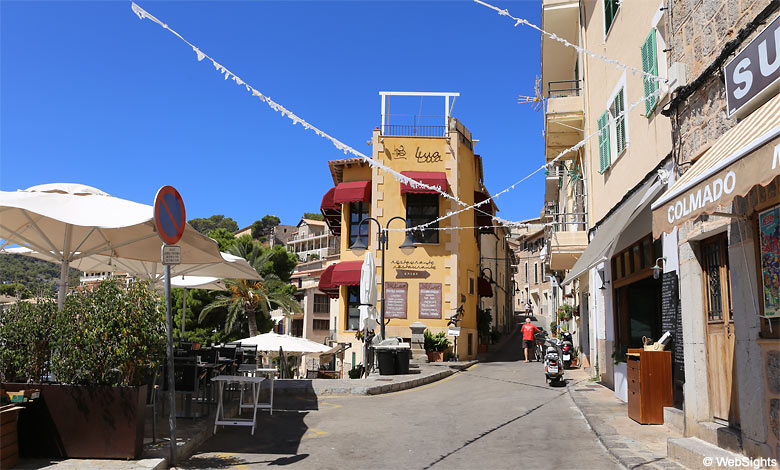 With its narrow streets, charming old buildings and very nice restaurants, Port de Sóller is a popular attraction for tourists coming by car or train.
---
Our video from Port de Sóller – subscribe to our Youtube channel.
---
Port de Soller map
Both beaches are beautifully located in the bay Bahía de Sóller. The town beach is located just south of the harbour, whereas Platja d'en Repic is located in the southern part of the bay. To the southeast, you will find the mountain village Sóller, which is also worth a visit.