Top 10 family-fun activities
Planning a family holiday on Mallorca? Or are you perhaps well underway with your Mallorca holiday? In this article we have listed the top 10 best activities for families with children visiting Mallorca.
These are our suggestions for the most popular activities. We included all three water parks on the list, but apart from that, we have chosen a wide range of activities for children and families. There is also one indoor option in case you encounter a rainy day.
1. Aqualand El Arenal
For families with children, Aqualand El Arenal is a sure hit. This giant water park has water slides for kids (and adults) of all ages, ranging from the near-freefall of Kamikaze to Crazy Race, where up to four family members can race each other. For the little ones, there are also several areas with small water slides and other activities. The entire family can also enjoy the large wave pool.
2. Jungle Parc
Jungle Parc is like a big climbing park in the middle of the forest. Among the trees, you'll find ropes, zip-lines, primitive bridges, and other challenging obstacles. The park features three courses, each with its own level of difficulty, allowing the whole family to participate in the fun. The easiest course, called Piratas, is designed for children aged 4-12 years. Jungle Parc is located just outside Santa Ponsa.
3. Western Water Park
Mallorca's other major water park is called Western Water Park. As the name suggests, the water park has a consistent Western theme and even features a complete Western town with a bank, saloon, and sheriff's office. The park offers water slides of all heights and sizes, so the whole family can join in. There are also large swimming pools (with waves) and dedicated areas for the little ones.
4. Palma Aquarium
If you encounter a rainy day or need some time in the shade, Palma Aquarium on the outskirts of Palma de Mallorca is a great option. The highlight is one of Europe's deepest shark tanks, which you can walk through in a tunnel. There is also a rainforest area with a beautiful waterfall and reptiles.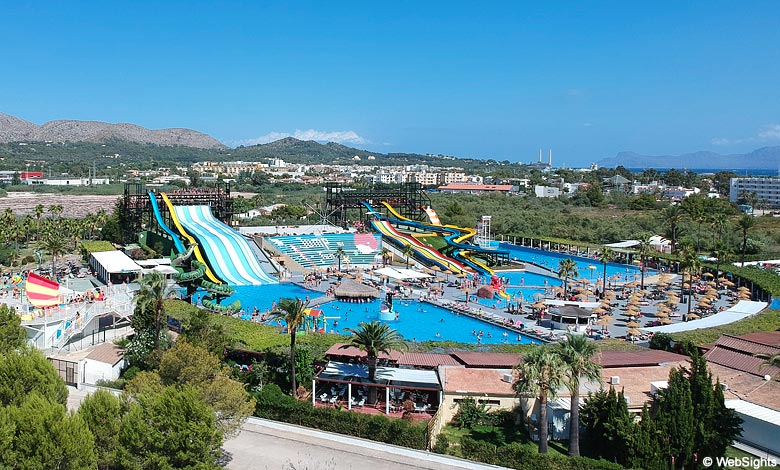 5. Hidropark
On the northern coast, just outside Port d'Alcudia, you'll find Hidropark, Mallorca's third-largest water park. It may be smaller, but for families with children, there is definitely enough entertainment here for a full day of fun. There is a separate and exciting area specifically designed for the little ones, and they will love it! For older children, there are more activities available in the other two water parks on this top 10 list.
6. La Reserva Puig de Galatzó
No technology, just nature. That's the motto of Reserva Park, an impressive natural park located at the foot of the Galatzó mountains. The round-trip in the park is approximately 3.5 km long, and depending on the number of stops you make, it takes about 1-2 hours in total. However, expect to make many stops as you'll encounter brown bears, eagles, emus, and natural waterfalls along the way. Reserva Park is located just a few kilometers from the small mountain village of Puigpunyent, which is also worth a visit.
7. Tirolinas Go!
Mallorca At Tirolinas Go, you can swing like Tarzan, glide on up to 250-meter-long zip lines, and take on other challenges in the treetops. There are two difficulty levels to choose from. The park is located in a small forest about 500 meters from Playa de Palma beach in the Bay of Palma.
8. Katmandu Park
Katmandu Park in Magaluf may not be very big, but its 10+ experiences are enough for a lot of fun and slightly crazy hours with the family. Everything in Katmandu Park is a bit quirky, especially the house that is upside down and takes you on a time-traveling experience. But there's also a 4D cinema, shooting in a Western town, and a battle against zombies. There is also a large indoor playground and a small outdoor water park with water slides.
9. Karting Magaluf
At Karting Magaluf, you have the opportunity to experience an adrenaline rush like no other. The fastest go-karts can reach speeds of up to 90 km/h, which is incredibly fast when you're just a few centimeters above the asphalt. There are six different types of go-karts available, including ones for children aged 9-15, which can reach speeds of up to 40 km/h.
10. Golf Fantasia
Minigolf can be played in almost every resort town in Mallorca, but in Palma Nova, you'll find the king of minigolf courses. With 54 holes, there are multiple options to play a regular round of 18 holes or even tackle all 54 holes. The courses are set in a beautiful green area with small waterfalls, ponds, caves, and tropical plants. You can also purchase ice cream, snacks, and beverages.