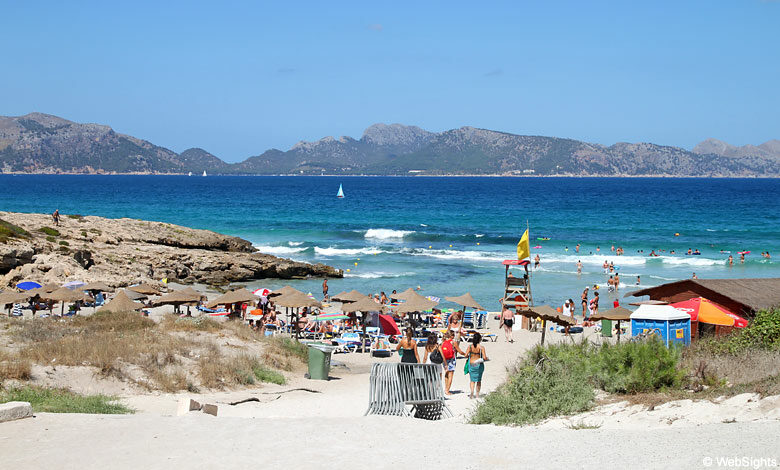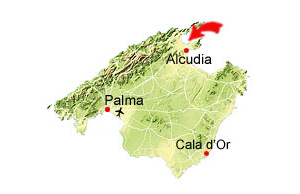 Mal Pas is located on the Alcudia peninsula about 2-3 kilometres northeast of Alcudia.
The beach in general
Platja de Sant Pere is a wonderful little beach which is less than 100 metres long and 60-80 metres wide. The sand is fine and the water is crystal clear.
The view from the beach is magnificent, especially to the Formentor peninsula. On both sides of the water there are low cliffs. There is a little toilet at the beach. Free parking is possible in the streets close to the beach.
The beach is well attended but seldom to crowded as the beach still is some kind of a secret tip.
Child friendliness
The water is very shallow and the beach is very child friendly even though the space for playing sometimes is limited.
Water sports
None, but the conditions for snorkeling are very good.
Beach restaurants
No reel restaurants or cafés but a beach bar with refreshments and sandwiches.
Mal Pas holiday resort
Mal Pas is a small and peaceful village with the port Puerto Cocodrilo. There are only a few hotels of which Prinsotel Mal Pas is the most popular.
---
Platja de Sant Pere map
Platja de Sant Pere is to the right. The other beach on the map is Platja de Sant Joan. Platja de Sant Pere is the best of those two. The port, Puerto Cocodrilo, is situated 200 metres to the the east. The old town of Alcudia and Port d'Alcudia is situated to south-east.