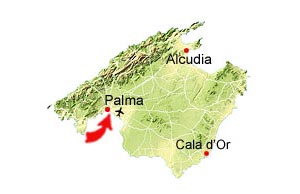 Platja Ca'n Pere Antoni is two kilometres from the centre of Palma de Mallorca, and only a kilometer from the town's beautiful gothic cathedral La Seu.
The 4-star Hotel Príncipe is right nearby, placed between the beach and the cathedral. The hotel has many facilities.
The beach in general
The 750-metre long Ca'n Pere Antoni is a proper city beach, and especially the local residents make use of its central location.
The sand is bright and fine, while the water quickly becomes quite deep. Most beachgoers lie on their towels or beach blankets, but sunbeds are rented out near the restaurants in both ends of the beach.
A beautiful beach promenade runs behind the beach, which is often used for walks and bike rides.
Child-friendly
The water quickly becomes a bit deep, which is not quite child-friendly. Besides from that, it is still a nice beach for children.
Water sport activities
There are no water sport activities on Ca'n Pere Antoni. To get a large selection of water sport activities, it is recommended to visit the beaches near Ca'n Pastilla and Playa de Palma.
Restaurants near the beach
There is a restaurant on each end of the beach, which both receive positive reviews from guests. Near both restaurants you can rent sunbeds, and the restaurants also function as beach bars for everyone on the beach.
Palma de Mallorca city
Palma de Mallorca is a modern city, which is perfect for a long weekend city trip.
The shopping options are great, for instance in La Rambla and Avenida de Jaime III. There are also beautiful city squares, including Placa Major. There are a lot of restaurants that serve food from all parts of the world. Try some of the small tapas bars and restaurants in the side streets, where locals go.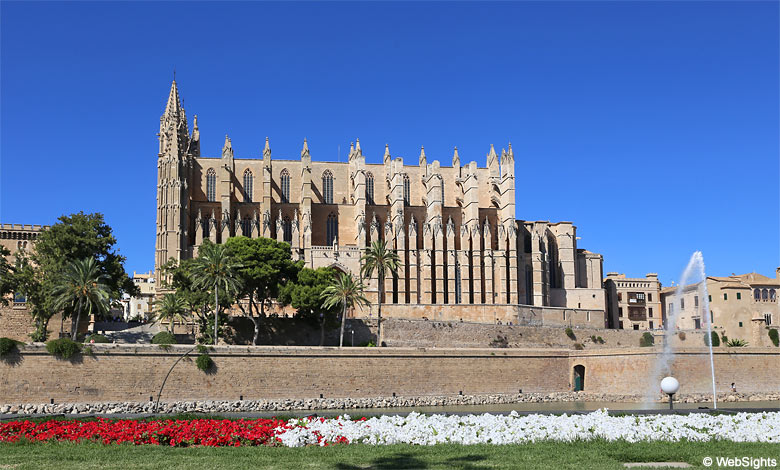 The biggest attraction in Palma de Mallorca is the cathedral La Seu. The old part of the city is behind La Seu with narrow streets, small and interesting shops, and beautiful buildings.
---
Ca'n Pere Antoni map
The map shows the beach in the middle of the map, while the cathedral La Seu is all the way to the left (above the small lake). If you go further east, you will find the next beaches.