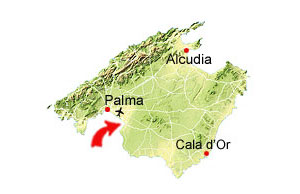 The resort of s'Arenal is situated approximately 10 kilometres east of Palma de Mallorca. Behind the beach you will find the town of almost the same name, S'Arenal.
The beach in general
Playa s'Arenal is a 210 metres long beach in continuation of the nearly five kilometres long beach Playa de Palma, which stretches from Ca'n Pastilla to s'Arenal.
Playa s'Arenal differ from the rest of Playa de Palma, as only Playa s'Arenal has beautiful palm trees all over the beach, which gives the beach a tropic look. The beach is very wide and the fine white sand shelves gently into the sea.
The beach is very popular, so you have to get there early in order to get a spot close to the shoreline. It is possible to park for free in the streets behind the beach. Normally you will find a free space within 200 metres from the beach.
Child-friendliness
Playa s'Arenal is wide and shelves gently into the sea. Although, during July/August the space for playing close to the sea is limited.
Water sports
All kinds of water sports including water ski, jet ski, banana-riding, pedal boats and paragliding.
Beach restaurants
There are plenty of restaurants, cafés and bars along the beach promenade.
S'Arenal holiday resort
S'Arenal is one of the older resorts in Mallorca and has for many years been popular with German tourists in particular. A number of restaurants and cafés are therefore also targeted at German guests, as are the bars Megapark and Bierkoenig, each of which can have several thousand guests during live entertainment.
In recent years, S'Arenal has slowly become more and more international, especially the popular area around the marina and the beach. The same applies to the beautiful seafront, which stretches many kilometers towards Palma de Mallorca. It is on this seafront that the 15 famous Balneario 1 to Balneario 15 beach bars are located.
It is also in S'Arenal that you find the large Aqualand El Arenal water park. One of the two largest water parks in Mallorca with a myriad of water slides, wave pool and many other rides for children of all ages.
---
Playa s'Arenal map
The photo shows the almost triangular Playa s'Arenal. The beach continues to the north and this part is called Playa de Palma. Playa de Palma stretches for several kilometres all the way to Ca'n Pastilla.