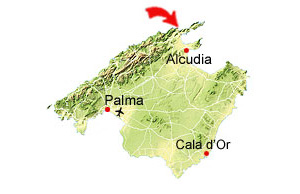 Cala San Vicente, also known as Cala Sant Vicenç, is located on the northwest coast of Mallorca, about 6-7 km west of Puerto Pollensa. It is the northernmost holiday resort in Mallorca and the distance to the airport in Palma de Mallorca is 67 km.
The beaches in general
Cala San Vicente has three beaches to offer, all of which have fine sand and very clear water. The beaches offer a nice view of the peninsula of Formentor and the mountain Cavall Bernat.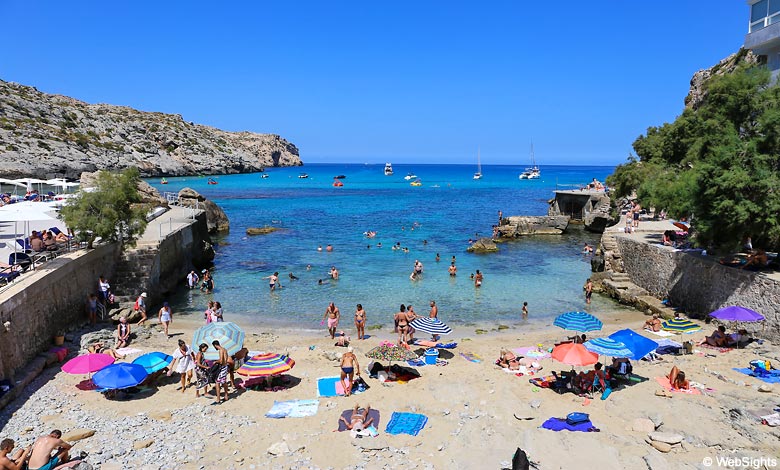 Cala Barques, which is most centrally located, is the largest and most beautiful beach. Sunbeds and umbrellas can be rented on the beach, and the beach is monitored by a lifeguard on duty. At the back of beach local fishermen are often seen preparing their nets for the next fishing trip.
From Cala Barques, a small path leads to Cala Clara, which is a somewhat smaller beach. Cala Clara is covered with sand, but there are also some stones and no public facilities. Even so, the beach is often well visited, perhaps because it is the quietest of the three beaches.
The third beach is called Cala Molins, and it is exceedingly popular because of its fine and bright sand. Incredibly, the beach fills up with new sand almost every year. At Cala Molins, sunbeds and umbrellas are rented, and here too a lifeguard keeps an eye on the bathers.
Child-friendliness
All three beaches are reasonably child-friendly, especially Cala Barques and Cala Molins. However, there are days with fierce winds and waves, and then the beaches are not child friendly.
Water sports
At Cala Barques it is possible to rent pedal boats, and the many rocks make the bay interesting to snorkel in and around.
Restaurants by the beach
At Cala Barques there are some small restaurants and bars. At the other two beaches there are hotel restaurants.
The holiday resort Cala San Vicente
Cala San Vicente is still a small fishing village. Tourism has only to a lesser extent affected the city, but there is a fine selection of restaurants and some smaller shops, so Cala San Vicente has it all for the holidays.
The 3-star Hotel Globales Simar is located directly on Cala Clara and overlooks the entire beautiful bay. The distance to the larger beach Cala Barques is only 250 meters.
---
Watch our video from Cala San Vicente – and follow our Youtube channel
---
Map of Cala San Vicente
The picture shows the main beach, Cala Barques, on the left. The small beach in the middle is Cala Clara and down to the right it is Cala Molins. A little further east is the pebble beach Cala Carbo.