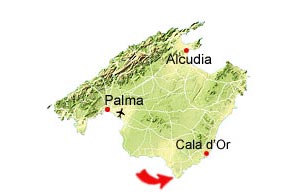 Es Caragol, also known as Platja des Caragol, is situated about 7 kilometres from the city Ses Salines and is the most southern beach in Mallorca.
The car is parked by the lighthouse of Ses Salines. From here it is a 30 minutes walk in rugged but beautiful terrain.
The beach in general
Es Caragol is an amazing beach and one of the best beaches in Mallorca. Very peaceful and with a stunning view over the turquoise sea.
The beach is some 500 metres long and as wide as 60 metres. The sand is fine and bright. In the back of the beach there are some sand dunes with sparse vegetation. The shallow water is crystal clear and has the most fantastic shades of blue and turqouise.
Es Caragol offers no facilities, so the visitors have to bring plenty of drinking water. On the plus side the beach has only medium occupancy.
Child friendliness
Plenty of space for playing and shallow water makes the beach very child friendly but the parents also have to consider the 30 minutes walk in rugged terrain.
Water sports
No water sports.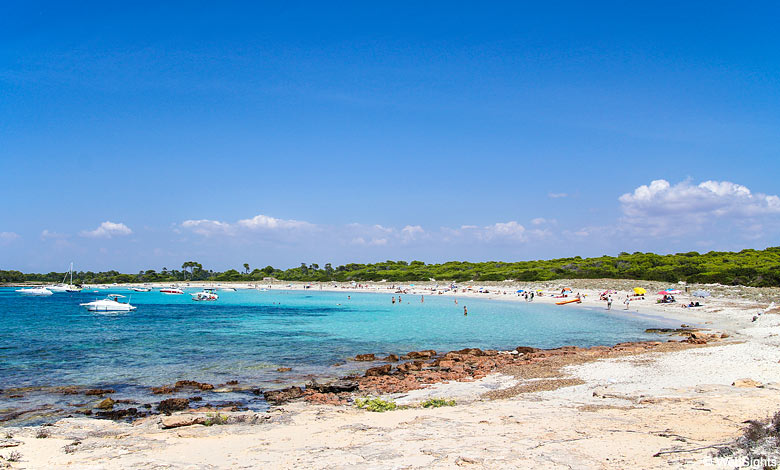 Beach restaurants
No restaurants or bars nearby.
Resorts close to the beach
Es Caragol is a peaceful beach far away from the busy resorts. The closest resort is Colonia de Sant Jordi some 6 kilometres to the Northwest.
---
Es Caragol map
The map shows the beach and the walk to the beach from the almost southern point on the map. The very thin vertical line is the road to the lighthouse of Ses Salines where you can park (along the road). Quite a bit to the north on the map you will find the town Ses Salines.