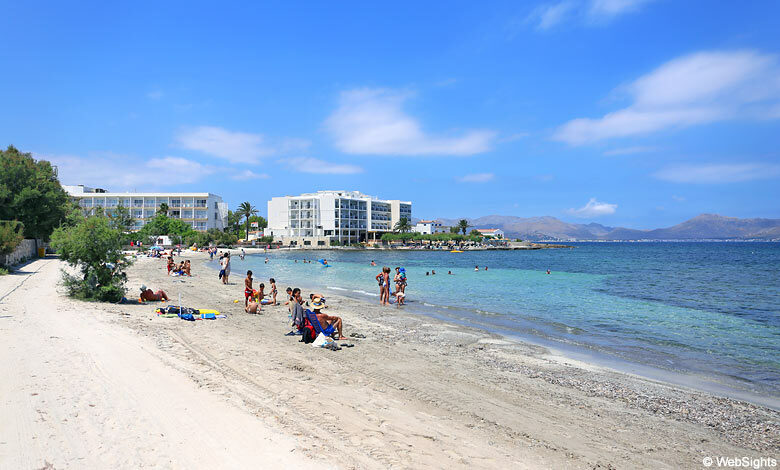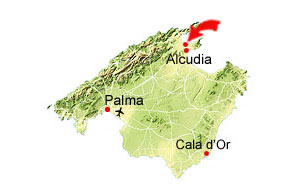 Platja des Morer Vermell is located a few kilometers north of Playa d'Alcudia. The small holiday resort Mal Pas is located one kilometer to the east.
The beach in general
Platja des Morer Vermell is situated in a scenic area with lots of trees and a beautiful view of the Tramuntana mountains on the peninsula of Formentor.
The 200-meter long beach lies well-protected in the bay of Bahia de Pollensa. The sand is fine-grained and the water is relatively shallow – although not as shallow as in Playa d'Alcudia.
There are no facilities on the beach, not even loungers or a lifeguard. Those arriving by car can easily find parking near the beach.
Child friendliness
Fine sandy beach with calm waters, so definitely a child friendly beach.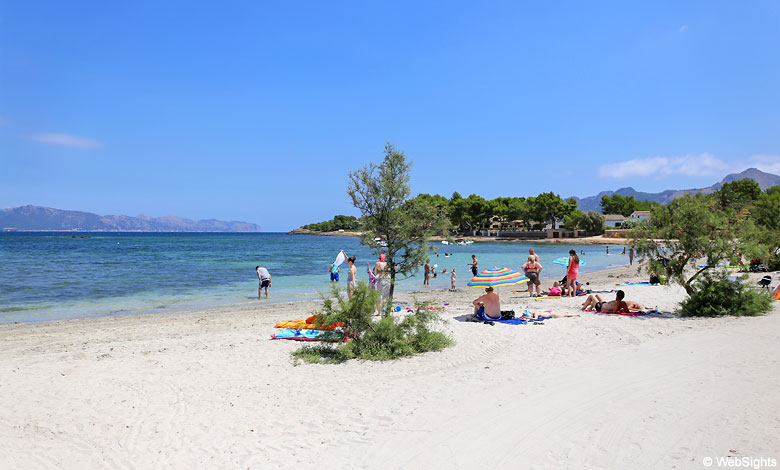 Water sports activities
No water sports activities are offered at this beach. The nearest beach with water sports activities is Playa d'Alcudia, where the selection is huge.
Restaurants at the beach
There are no restaurants close to the beach. Cold drinks, ice cream and sandwiches can be bought in the mini-market Petit Mercat about 150 meters from the beach.
Holiday resorts nearby
Platja des Morer Vermell is located in a nice and quiet area. On the left side of the beach there are two hotels, but aside from that, there is little development near the beach.
The closest holiday resort is tiny Mal Pas, but of course Port d'Alcudia accommodates the most tourists in the area. Port d'Alcudia is the largest holiday resort in Mallorca.
The historic town of Alcudia (picture above) is situated one kilometer south of Platja des Morer Vermell. So, how about exploring Mallorca's history in the morning and then relaxing on a peaceful beach in the afternoon?
---
Platja des Morer Vermell map
It can be difficult to spot the beach on the map, but it is located just to the right off the two white hotels. Alcudia is located slightly to the south and Port d'Alcudia is located yet a little further south.