Cala Barca, also called Caló de sa Barca Trencada, is situated only three kilometres from the beautiful city Porto Petro and seven kilometres from Cala d'Or.
Most guests stay in the beautiful Iberostar Club Cala Barca hotel, which is a huge complex with all kinds of facilities and activities. Perfect for families with children.
Cala Barca beach
Cala Barca is a beautiful little beach, which is hidden inside a bay with low cliffs and beautiful green trees on both sides.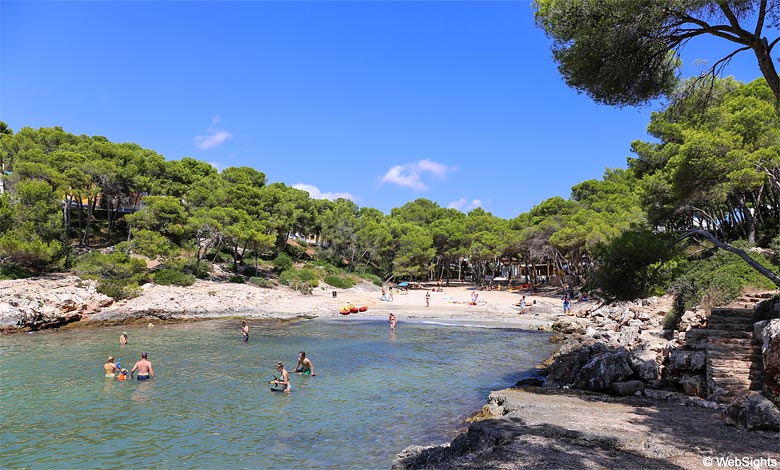 The 35-meter-long and 25-meter-wide beach has nice, light sand. The water is completely clear and shallow for many meters. It is possible to rent sunbeds and parasols on the beach, and you have access to showers and toilets. You can park on the street behind the beach.
Cala Barca is close to a big hotel, so the beach can be quite populated with the hotel's guests, especially in July and August.
Child-friendly
Nice, bright sand and very shallow water makes the beach extremely child-friendly. For the older children, there is a popular spot for jumping from the cliffs (see picture).
Water sport activities
It is possible to rent kayaks, and the bay is great for scuba-diving. There are several beautiful fish along the cliffs.
Beach restaurants
There is a beautiful restaurant at the back of the beach – see the pictures. Here, you can enjoy a meal in quiet, amazing surroundings.
Holiday villages
Barca Trencada is a small town on the map and besides the hotel and 40-50 holiday cottages, there is nothing in the town. However, the charming seaport Porto Petro is only a few kilometres towards northeast. A bit further northeast, you'll find the holiday village Cala d'Or, which has many hotels, stores and restaurants.
---
Cala Barca map
As the map shows, Cala Barca is protected inside a bay. The Iberostar Hotel Cala Barca and its many swimming pools can be shown in the top right corner. Towards west, you can find the very popular beaches Playa Mondrago and s'Amarador, which are both among the best beaches in Mallorca.