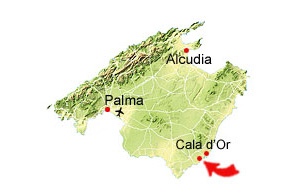 Cala Barca, or Caló de sa Barca Trencada, is located 3 kilometres from Porto Petro and 7 kilometres from Cala d'Or.
The beach in general
Cala Barca is a lovely beach situated in a cove with low cliffs and pines on both sides of the beach.
The 35 metres long and 25 metres wide beach has fine white sand and clear, shallow water. Services include sun loungers, parasols, showers and toilets. Parking is possible in the streets behind the beach.
As Cala Barca is very close to a large hotel the beach can get quite crowded by hotel guests, especially during July and August.
Child friendliness
Fine sand and shallow water makes Cala Barca a perfect beach for children.
Water sports
It is possible to rent sea kayaks at Cala Barca.
Beach restaurants
There is a very nice beach restaurant serving delicious dishes. The restaurant is also serving as a beach bar.
Nearby resorts
Most people visiting Cala Barca are mainly hotel guests from the very popular Iberostar Club Cala Barca
, which is a perfect 4-star hotel for families.
The very beautiful village of Porto Petro is located 3 kilometres from Cala Barca.
---
Cala Barca map
Cala Barca is situated in a beautiful cove surrounded by pines. Easy to recognise is also the Iberostar Hotel Cala Barca, a 4-star all-inclusive holiday resort. Porto Petro is located to the north-east.