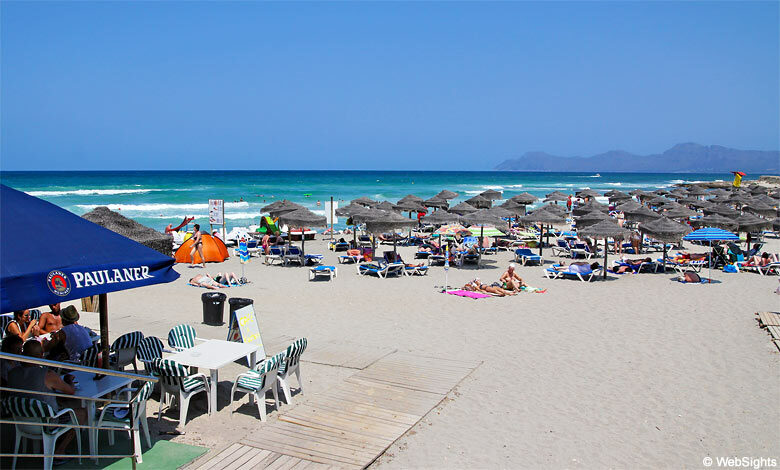 Son Baulo is both the name of a beautiful natural beach and a quarter in the town of Ca'n Picafort, which is situated on the north coast of Mallorca.
The beach in general
Son Baulo beach is situated in the south-east end of the holiday resort of Ca'n Picafort. The beach is 200 metres long and up to 150 metres wide.
The beach has bright, fine-grained sand. The water is clear and deepens slowly. When the wind comes from the north and north-east, there may be big waves. At a large part of the beach, it is also possible to rent sun lounges and sunshades. There are also showers and toilets at the beach. You can park in the streets of the town.
The surroundings of the beach are very beautiful. In the horizon, you can see high mountains and just behind the beach, the Torrent de Son Baulo River has its outfall.
Child friendliness
The beach has very fine-grained sand, and at the rear part of the beach there is lots of room to play. The water deepens slowly, so on days with no big waves, the beach is the perfect place for children.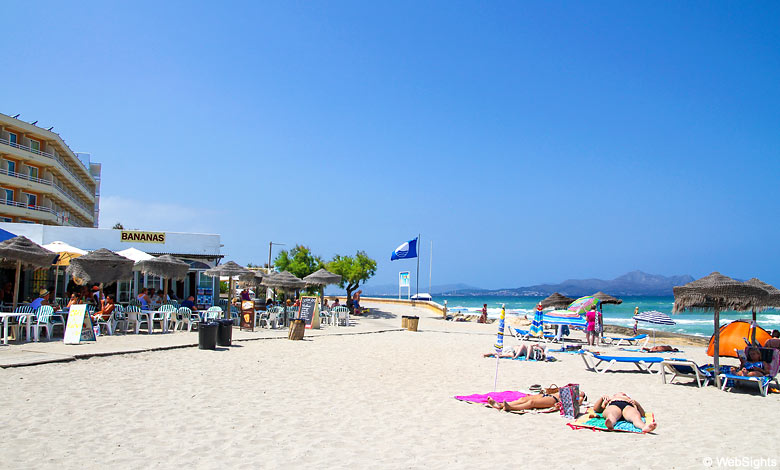 Water sports
Water bikes can be rented at Son Baulo. At the main beach in Ca'n Picafort, there is a much wider selection of water sports activities.
Beach restaurants
There are several restaurants and cafés close to the beach and in the street heading towards the beach, there are also a few mini-markets.
The Son Baulo quarter in Ca'n Picafort
Son Baulo is the newest and most charming quarter of Ca'n Picafort. Most of the hotels have a low structure and are generally of higher quality than the rest of Ca'n Picafort.
There are many restaurants, bars and shops, but Son Baulo is not as busy as the central part of Ca'n Picafort. Close to the beach, you'll find the family-friendly Hotel Son Baulo, which has a pool for children, a playground and WiFi.
---
Watch our video from Son Baulo
---
Son Baulo map
The map shows the Son Baulo beach, which has a triangular shape. The outfall of the Torrent de Son Baulo River can be seen next to the beach. Towards the west and north-west, you'll find the Son Baulo quarter and, a bit further away, the original part of the holiday resort Ca'n Picafort.