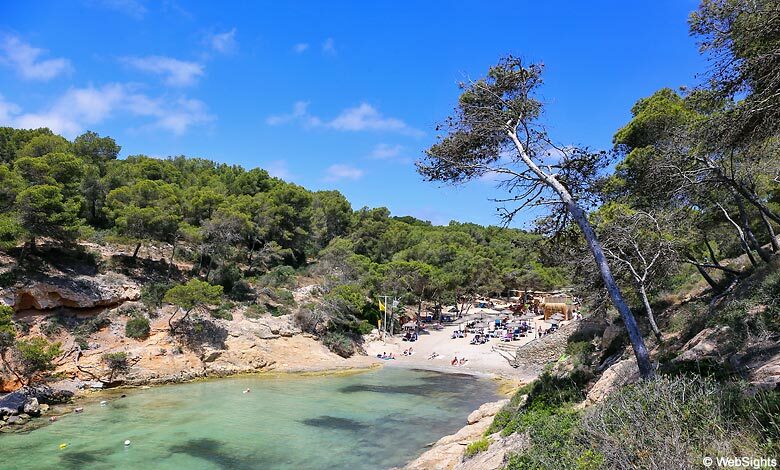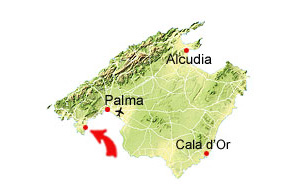 Cala Falcó is located on the southwest coast of Mallorca, approx. 3-4 kilometres south of the holiday resorts Magaluf and Palma Nova.
The beach in general
Cala Falcó is an almost hidden treasure inside a small, narrow bay.
The beach is only about 50 metres long, but very wide. Both sides of the beach have low rocks and are beautifully covered with trees. The trees help provide some shade, particularly late in the afternoon.
The water is very clear with lovely blue, green and turquoise shades – and it is very shallow. From the beach, it is possible to look over to the small island Illot del Sec, where you'll find an old Greek ship wreck.
Even though the beach is quite small, it is rarely crowded. It is possible to rent sun lounges and sunshades at the beach, but otherwise there are not many facilities. You can park your car in a paid parking area close to the beach, or for free along the road, approx. 200 metres from the beach.
Child-friendliness
The water at the beach is very shallow and well protected against waves, which makes it perfect for children. However, it may be a bit too crowded to play during the high season.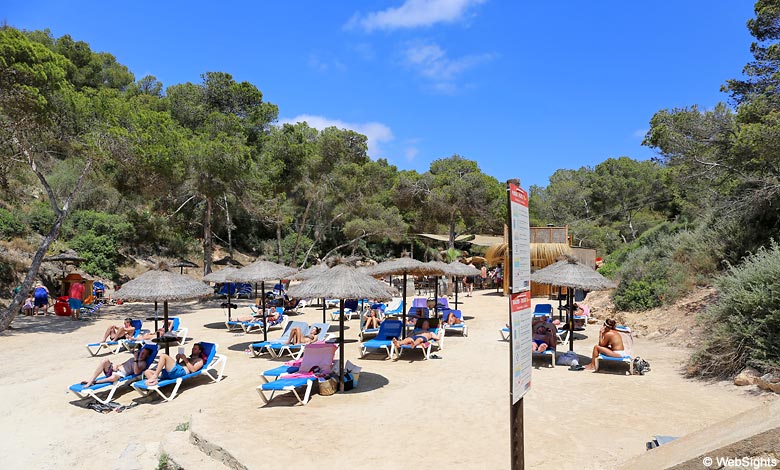 Water sports
There are no water sports activities at Cala Falcó, but it is possible to see some nice fish if you go snorkelling along the rocks.
Beach restaurants
Cap Falcó Beach calls itself a beach bar, but it is so much more than that. According to the reviews from the guests on Tripadvisor, both the atmosphere, food and drinks are very good.
Holiday resorts close to the beach
Cala Falcó is a genuine natural beach without any holiday resorts nearby. The nearest holiday resort is the small Cala Vinyes and the larger holiday resorts Magaluf and Palma Nova are located a few kilometres to the north.
Even with these large holiday resorts in the vicinity, Cala Falcó has a great mix of tourists and local visitors.
---
Watch our video from Cala Falcó – and follow our Youtube channel
---
Cala Falco map
The lovely bay stands out in the satellite photo. If you move the map a bit to the northeast, you will see the small holiday resort Cala Vinyes. To the southwest, you will find the still relatively unknown holiday resort Sol de Mallorca.