Marineland near the holiday village Portals Nous is Spain's oldest dolphin park and has through decades been entertaining a lot of tourists on Mallorca. The park has been renovated over the years, and although it is not very large, it is great entertainment for the entire for the entire family with beautiful shows and many colourful animals.
The main attraction in Marineland is the bottlenose dolphin show, which can be experienced inside the large dolphin aquarium. The skilled keepers have taught the dolphins many impressive jumps and tricks. The show only takes place two a day and can be enjoyed with slush ice, popcorn and similar.
The show with the Californian sealions and the parrot show are also great for entertainment, especially for children. There are also other animals, such as sharks, penguins, flamingos, and other exotic animals. Some of them can be seen in the tropical house, where you will also find snakes, turtles, and reptiles.
During set times, the fish, seals, and penguins are fed, which is quite interesting for the children. There are also food options for visitors, and there is a beautiful view of the Mediterranean Sea from the large restaurant.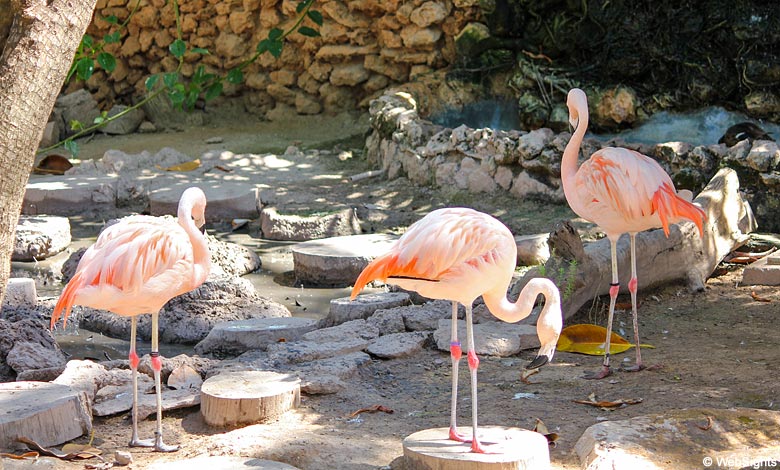 If the children need to cool off, you can visit 'Kids Zone', where particularly the youngest can splash around in the swimming pool with a few small water slides and other toys. Right next to the pool area, there is a pizzeria.
Although stuff happens throughout the day, it is nice with half a day in Marineland for most people. The second half of the day can be spent on the child-friendly sand beach Costa de'n Blanes right in front of Marineland.
The prices in 2023 are €29 for adults and €12-20 for children, depending on age. If the tickets are bought on their website, it is slightly cheaper, but you cannot buy tickets on the same day, it must be at least for the following day.
See more family-fun activities on our top 10 list of activities for families.
---
Marineland map
Marineland can be viewed in the middle of the map. The Costa de'n Blanes beach is right in front of the park, which the slightly larger beach Punta Portals is a few meters further away. If the map is moved slightly to the right, you will see Portals Nous.