The Cala Sa Marjal beach is located near the small holiday resort of Costa del Pins on the east coast of Mallorca, a few kilometres north of Cala Millor.
Cala Sa Marjal in general
Cala Sa Marjal beach, also called Es Ribell, is 500 metres long and approx. 20-30 metres wide.
The sand is fine-grained with a pale grey shade. The water is very clear, but deepens relatively fast. The beach is slightly better protected against waves than the neighbouring beaches in Cala Bona and Cala Millor. It is possible to rent sun lounges and sunshades at the beach. The facilities also include showers and toilets. You can park along the road behind the beach.
The beach is rarely crowded which particularly makes it popular among the locals.
Child friendliness
There is room to play in the soft sand, but the water deepens relatively fast.
Water sports
Water bikes can be rented at the beach.
Beach restaurants
There is a rather big restaurant very close to the beach. From here, there is a good view of the water and the mountains in the north-east horizon.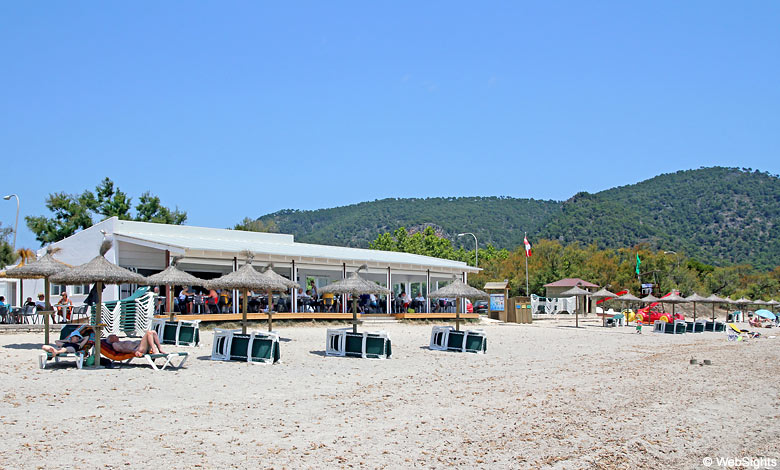 Costa del Pins holiday resort
Costa del Pins, which translates into 'the Pine Coast', is a small and quiet town. There is one large hotel, the four-star Hipotels Eurotel Punta Rotja & Spa, which has a view of the beach, sea and mountains.
In the northern outskirts of Costa del Pins, you'll find the reputed Golfclub Son Servera, which dates all the way back to 1967.
---
Cala Sa Marjal map
The map shows the long beach and the town of Costa del Pins, north-east of the beach. In the middle of the beach, you can see the restaurant. Just north of Costa del Pins, you'll find the Golfclub Son Servera.