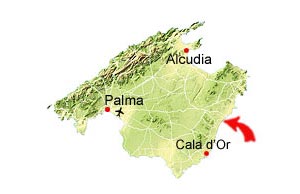 Cala Anguila is a small swimming bay on the eastern coast of Mallorca. The beach is located between the two small holiday resorts of Cala Mendia and Cala Magrana. The larger town of Porto Cristo is located three kilometers to the southwest.
The beach in general
Cala Anguila is located deep inside a beautiful bay with cliffs on both sides. From the beach, you can see stone pines, palm trees and a few buildings.
The beach is only 50 meters wide, but makes up for it by being 120 meters long. The sand is light and fine, and the water is incredibly clear with gorgeous turquoise shades. An incredibly beautiful beach.
It is possible to rent sunbeds and parasols on the beach, and there are showers and toilets as well. During peak season, the beach is monitored by a lifeguard.
There is a limited number of free parking spots at the beach, but we recommend parking in the street and walking the last bit down to the beach.
Child-friendliness
Normally, there is plenty of room to play on the beach, and the bay provides adequate protection against waves. All in all, it's a child friendly beach.
Watersport activities
No types of water sports are offered at the beach, but the conditions for snorkeling in the crystal-clear waters are good, especially close to the cliffs on both sides of the bay.
Beach restaurants
There is one restaurant/café with a view of the beach. If you want something a little better, we recommend going to the restaurant in the neighboring bay of Cala Mendia.
Resorts near Cala Anguila
Cala Anguila is located at the eastern corner of the small vacation town of Cala Mendia. The area consists mainly of private vacation homes, and there are only a few smaller hotels. It is a nice and very quiet area for a relaxing vacation.
In Cala Mendia, there are only a few restaurants, a couple of supermarkets, and a baker. To find a much larger selection, you merely have to go the 3 miles to the larger resort town of Porto Cristo. Here, you can also participate in many different excursions by boat and visit the famous grottos, Coves del Drach.
---
Cala Anguila map
The map shows clearly that Cala Anguila is located in a well-protected spot inside a bay. Cala Mendia is located less than 500 meters to the southwest. Slightly further away in the same direction is the resort town and beach of Cala Romantica.