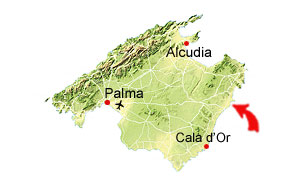 The former fishing village S'Illot is located on the east coast of Mallorca, a bit south of the holiday resort Sa Coma. From the airport in Palma de Mallorca, the distance to S'Illot is approx. 65 km.
The beach in general
The lovely beach in S'Illot has two names: Cala Moreya and Platja de S'Illot. The beach is 350 metres long with an average width of 50 metres, and there is usually plenty of room at the beach.
The beach has fine-grained sand with a very bright shade. The water is clear and deepens very slowly. On days with wind from the east, there may be relatively big waves, and then you will find the best protection close to the small harbour.
It is possible to rent sun lounges and sunshades and there are showers to wash off the seawater. During the high season, the beach is supervised by a lifeguard.
Child-friendliness
The beach is very child-friendly. Plenty of room to play in the sand and the water is shallow. Beware of waves and undercurrents when the wind blows from the east.
Water sports activities
It is possible to rent water bikes. If you require a wider selection of water sports activities, it is recommended to follow the seafront to the next beach in Sa Coma.
Beach restaurants
Along the seafront behind the beach, there are many restaurants and cafés. They serve all kinds of food, and according to the reviews from the guests, you will find the best food at The Beach Bar.
S'Illot holiday resort
S'Illot has gradually become integrated with the larger and more modern holiday resort Sa Coma, but the towns are quite different.
In contrast to Sa Coma, S'Illot is a traditional fishing village, which has only gradually become a tourist destination. This means that there are still active fishing boats in the small harbour getting pulled out of the water after a day's work. The preserved green areas also help to give the town a relaxed atmosphere.
S'Illot has a good selection of restaurants, cafés and tourist shops. The nightlife is very quiet, whereas there is more action in Sa Coma.
---
S'illot – Cala Moreya map
The beach in S'illot is visible in the central part of the map. If the map is moved slightly to the north, you will see the holiday resort Sa Coma, which has a much bigger beach. Further to the north, you will find Cala Millor, which is the second largest holiday resort on the east coast of Mallorca.