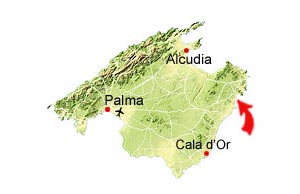 Cala Bona lies just north of Cala Millor on the east coast of Mallorca. The airport is about an hour's drive by car.
Spanish hotel chain Protur has four hotels in the city. Three of them are family hotels, and for the romantic couple holiday, the 4-star beach hotel Protur Alicia is recommended, pampering its guests in all sorts of ways. It also has a great roof terrace with a pool!
Cala Bona beaches in general
Officially Cala Bona boasts three beaches, but only two of them can be considered as real beaches. All three beaches are situated within small coves protected by large man made breakwaters. The two main beaches are some 300 metres long and up to 40 metres wide.
The two main beaches are mainly sandy but have parts with gravel. In the water there are some areas with very low cliffs and pebbles. There are sections with sunbeds and umbrellas and the services also include toilets, showers and lifeguard.
Seaweed tends to accumulate both in the water and on the beach. However, most of it is removed on a regular basis.
Child-friendliness
Some parts of the two beaches have good conditions for bathing, some have not due to low cliffs and pebbles. There is a playground very close to the beaches.
Water sports
Only diving, however you will find all kinds of water sports in the neighbouring resort of Cala Millor. The diving school Albatros Diving is situated close to the harbour in Cala Bona.
Beach restaurants
There are several cafés and restaurants close to the beaches.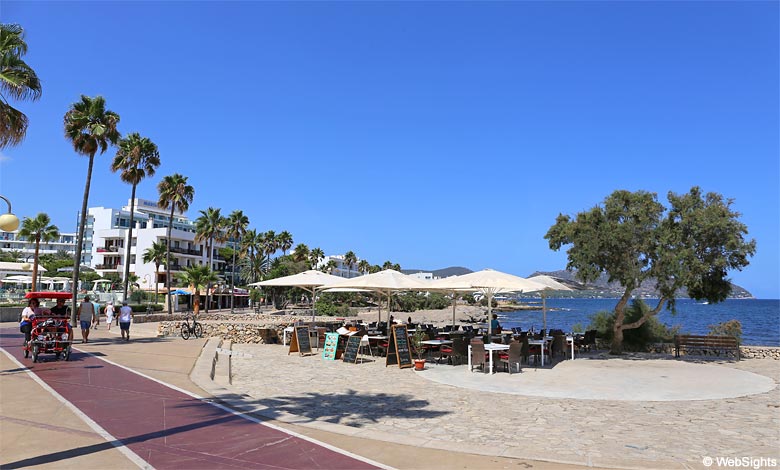 The resort Cala Bona
Cala Bona was once a small traditional fishing village. Now it is a rather quiet and relaxed resort that especially caters for British tourists.
Cala Bona has a beautiful pedestrian promenade where you will find many shops, cafes, bars and restaurants. A cycle track is linking Cala Bona with Cala Millor, Sa Coma and Son Servera.
You will find many small supermarkets in Cala Bona, larger supermarkets such as Eroski and Lidl can be found in Cala Millor.
---
Watch our video from Cala Bona – and follow our Mallorca Youtube channel
---
Cala Bona map
The satellite photo shows the three beaches in Cala Bona. The beach closest to the harbour can not be considered as a real beach. As you can tell from the satellite photo the beaches are very well protected by the man made breakwaters.