Es Comú is located between Playa de Muro and Can Picafort in the beautiful and elongated Gulf of Alcudia. From the centre of Port d'Alcudia it is 7 km to the parking lot at Es Comú.
The beach in general
Es Comú is a beautiful and unspoilt natural beach between the densely populated areas of Playa de Muro and Can Picafort.
The beach is 1500 meters long and an average of 15 meters wide. The sand is fine and golden, while the water is clear and shallow. Moderate waves may occur, especially with strong winds from the northeast. At the back of the beach there are beautiful sand dunes, where juniper bushes grow, which is quite unusual.
Officially, there are no sanitary facilities at Es Comú, but right between Es Comú and Playa de Muro's main beach there is a restaurant where there are also toilets and a large parking lot free of charge.
Child friendliness
Es Comú is very child friendly, especially at the northwest end close to the restaurant.
Water sport activities
There are no water sports at Es Comú, but at the neighbouring beaches on both the right and left there is a large selection of water sports.
Beach restaurants
There is a restaurant at the northwest end of the beach, right where the beach starts to be called Playa de Muro Sector II.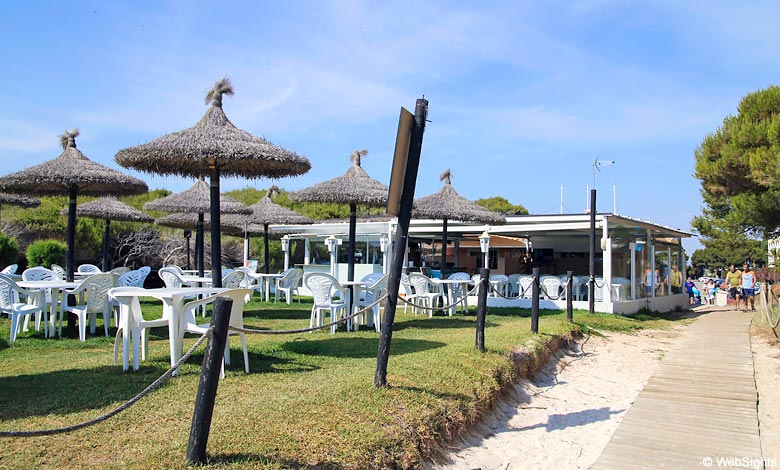 Resorts in proximity of the beach
At the northwest end of Es Comú is the large family-friendly resort town of Playa de Muro. Here there are many large all-inclusive hotels, including the very popular Iberostar Albufera Playa just off Es Comú. There is not much urban life in Playa de Muro.
At the other end of the beach is the older resort town of Can Picafort, where there are many shops, restaurants and cafés. Many of the hotels have been renovated in recent years, and so has the city's infrastructure.
---
Map of Es Comú
The map shows the elongated but proportionately narrow beach of Es Comú. A little to the northeast is Playa de Muro and Can Picafort is located just south of Es Comú.